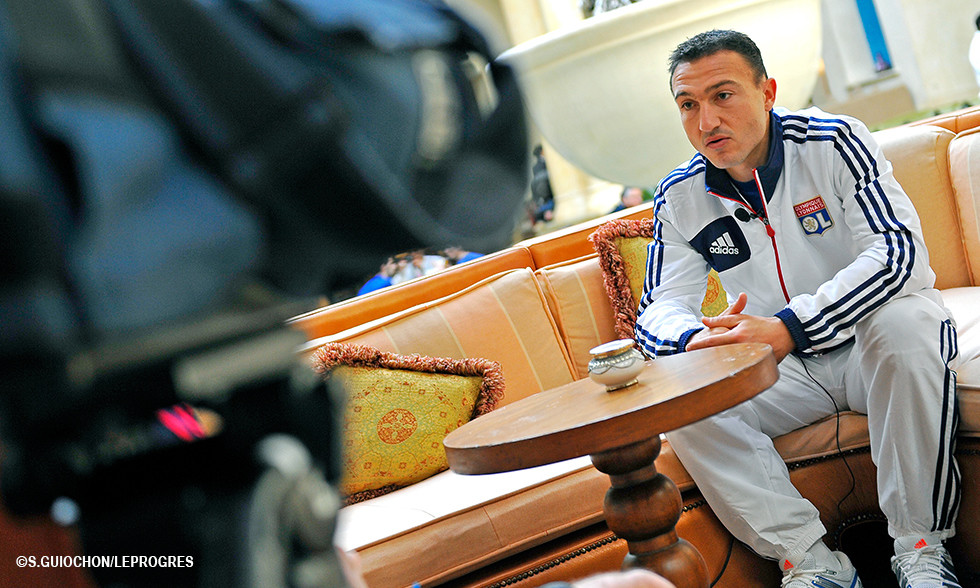 The OL midfielder doesn't often speak to the media... but the training camp in Morocco was a chance to speak to him on a range of different topics...
It's not because he doesn't like the light of the cameras, the pens and the microphones that he has nothing to say. It's not because he seems wary, always holding back. he doesn't refuse questions and doesn't hide behind glib phrases if and when he consents to talk to the media. You get the feeling he's happy to do the job he's doing and happy with how things have gone for him since July. He's not the type of guy to look back at his past, nor to plan his retirement... Steed is all about passion for football and setting high standards. he has shown that ever since Rémi Garde fielded him for the first time against VAFC. Steed is as open and expansive on the pitch as he is taciturn off it. He's very clear-headed, with a wealth of experience garnered over a long career allowing him to speak accurately and concisely. His undeniable talent and his reserve combine to intrigue and charm at the same time, as do his look and his smile when he listens to a question and prepares to answer. And then expectations go out the window when the time comes to speak.


What do you make of the first half of the season?
"Most of all I think about the three matches that I 'missed'. I wasn't satisfied with my performances in Lille and Toulouse, or against PSG. I was disappointed. Ifthe team wins, ok, but if you lose 3-0... I always prefer to focus on what's not going well in order to keep improving, rather than the positives."
AWere you surprised that people were surprised when you returned to this level of form? 
"I can understand it. I had dropped out of sight because I was in England for ten years and then didn't play at all season. I wasn't surprised by my physical form because I kept in shape. But I wasn't expecting to play so many matches so consistently. I want to make the most of it, especially as I'm closer to the end of my career than the beginning."
What did Steed do over the winter break?
"Christmas with the family and three days at Paris Disneyland. I didn't think about football at all except for when I checked out a couple of results from England."
I'm an OL man until June 2014
What about your contract extension?
"Well, I'm an OL man until June 2014. After that? We'll see how I feel, and what happens. I haven't planned my retirement. Sincerely, I never thought I would one day return to play for OL. It's fate. It's a great story, too. Playing somewhere else afterwards, at an lower level? Yeah, maybe. And why not for a club in the Lyon region?"
You haven't won many trophies in your career...
"Indeed. I didn't really have the chance to with the clubs I played for, except for one League Cup with Tottenham. Maybe I can do it with OL... But I'm not the type of guy to look back on what I've done, even though titles are important in a career. I'll think about my career once it's over. I haven't kept any photos, articles or footage..."
What has changed in football since you began playing?
"The business side of things... business has more of a role than it did before, but we can't complain... even though football is one of my passions, its also my job."
Can you explain to us you absence from the media scene?
"I'm naturally a reserved person, that's how I was brought up. But I'm not shy. I'm also wary with people I don't know. And I don't chase the limelight. I don't need it; I'm just fine without it. Certain players need to express themselves often... I've known guys who talk a lot, but on the field it was a different story. Forme, the only light that counts is the light out on the pitch when you're playing. People's praise? It's nice, but I find it pretty embarrassing..."
Have you thought much about returning to White Hart Lane for the last 32 of the Europa League?
"Not much, but I know it will be pretty special. I played for two years at Tottenham, winning the League Cup against Chelsea. There's a great atmosphere in that stadium... Will I get a warm welcome? I expect they'll whip up a little something..."