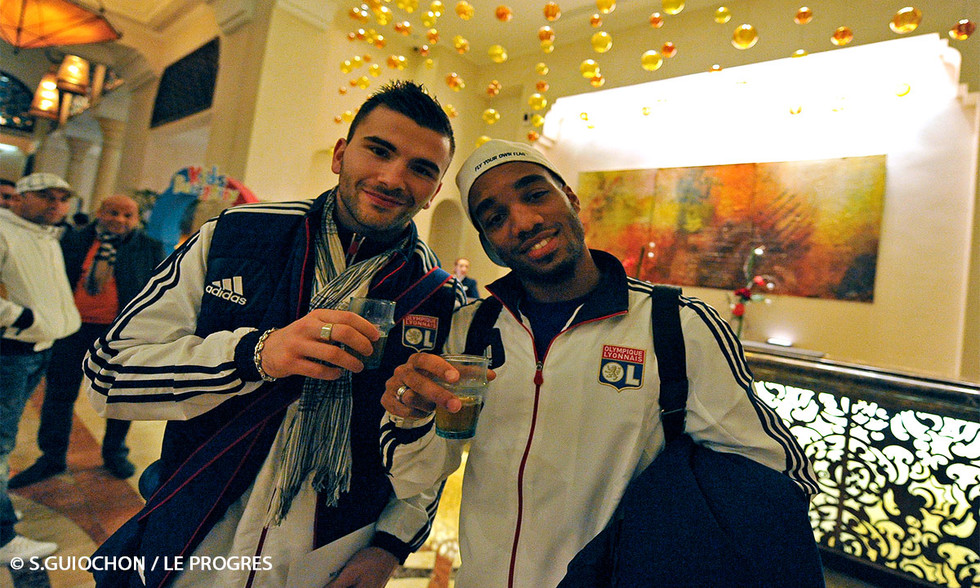 After getting back into training at Tola Vologe on Monday, OL headed to morocco on Tuesday for a training camp until January 5.
25 players, the complete staff, Bernard Lacombe and a few journalists left the St-Exupéry Airport at 16:15 for Casablanca. Although they took off under rainy skies and had to climb through the clouds, they reached their sunny cruising altitude and, a little bit of turbulence later, landed in Casablanca's Mohamed V Airport precisely after precisely two hours and twnety minutes.
They were greeted by 17-degree temperatures and cloudy skies. The first part of the trip under their belts, OL piled onto a bus and struck out for the city El Jadida, 100 kilometres away. While waiting in one of the airport lounges for the immigration formalities to be taken care of, the players met up with Aziz Bouderbala, who is still a hero in his native land.
It was a long trip before the players settled into their rooms at the enchanting beach resort of Mazagan; traffic jams caused by accidents had slowed the journey despite and effective escort. At 21:30 (20:30 local time), the OL squad enjoyed a welcome tea in the lavish hall of the immense hotel complex. Then to dinner... ON Wednesday, there are two training sessions on the cards after recovering from New Year's celebrations and the long trip with a good night's sleep.
---
The squad
Vercoutre, Lopes, Frick
Dabo, Réveillère, Monzon, Umtiti, Lovren, Bisevac, B. Koné
S. Koné, Malbranque, Gonalons, Fofana, Ferri, Gourcuff, Grenier, Bastos,Mvuemba, Ghezzal
Briand, Lacazette, Gomis, Lisandro, Benzia.
Note
After the friendly match against Epianl, B. Koné will leave to join the Burkina Faso squad for the imminent kick-off of AFCON 2013.