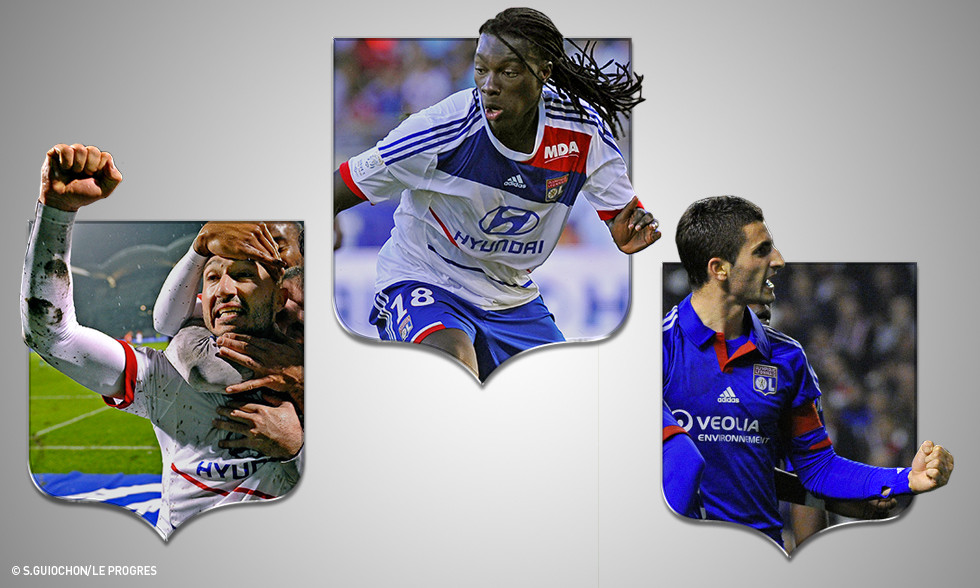 The OL striker has been chosen by the readers of OLWeb.fr as the Player of the Year... by a large margin, he beat out competition from Steed Malbranque and Maxime Gonalons...
Realistically, who had achance at taking this title for 2012? In terms of impact, consistency and influence over the side's results, you could think that it would come down to just Réveillère and Gonalons... but OLWeb's readers chose "Bafé" with a resounding 51% majority! The number 18 played 50 of a possible 57 matches, scoring 26 goals. He wasn't a regular started in the second half of season 2011-12 but has been almost ever-present since the beginning of the current campaign (21 out of 23 matches). 'Bafé' was sometimes a replacement for 'Licha', often started on his own up front or inpertnership with the Argentine. 'Bafé' continually made progress and weighed heavily on opposition defences while playing a key role in his own side's game.
Obviously, a central striker is judged by the number of goals he scores as well as their importance in terms of the results the team secures. He scored his first goal of 2012 in Nantes in the last 32 of the Coupe de France, opening the scoring against amateur side Luçon. He handed OL the advantage against Dijon, rescued the side's hopes against OM, made the break against Bordeaux in the last 16 of the Coupe de France, equalised against PSG and scored the only goal of the derby... as well as handing OL the lead against Valenciennes... opening the scoring against Lorient... scoring the only goal against Brest... bagging a hat-trick at the Vélodrome... the winner against Montpellier... not to mention getting the first goal against Sparta Prague and Bilbao. All told, nearly every single goal he scored was decisive...
'Bafé' made his way back into the France squad and is now, in his fourth season with the seven-time French champions, one of the key players for OL. Will he still be there at the end of the season? If he stays with the club, he will likely pass Pegguy Luyindula's goal record (86 strikes), who still enjoys a narrow lead in terms of total Ligue 1 goals scored by a player still active in the league. It's hard to doubt that he will add to his already impressive tally of 82 Ligue 1 strikes...
With 17% of the vote, Steed Malbranque caused the sensation of the year. In barely four months, the midfielder impressed his coaches, his teammates and the fans. It was a triumphant return for this OL youth academy graduate who had left the club to seek his fortune in England. At 32, he showed that his desire, his determination, his physical form, his technical and tactical qualities remain intact... Steed has come back to life after a year out of the game , adding yet more plaudits to his already glittering career. In the space of a few weeks, he had convinced everyone of his worth, to the point of being offered - and signing - a contract extension; Steed will still be Lyonnais come next season.
Locked on points with Malbranque was another OL youth academy graduate: Maxime Gonalons. From match to match, from season to season Max has grown in stature in the OL squad. It seems like a long time since he scored away to Liverpool in the Champions League, but it was only a bit over three years ago! The midfielder slipped back into central defence with aplomb at the beginning of 2012, and he has proven indispensable with his work rate, his physical impact and his calming influence on OL's game. None of which went unnoticed by the France set-up.. Maxime has played match after match without dipping in form: he played 52 of a possible 57 matches in 2012! And from time to time, he turned scorer to keep up his excellent average (Bastia and Sochaux). To cap off his incredible progress, he has regularly donned the captain's armband when Lisandro has been absent. In short, Max is still on the up-and-up at OL.
---
Note from the editor
Over and above this deserving top three chosen by the site's readers, it seemed important to give a special mention to Anthony Réveillère for his incredible work in a year that saw him return to the France squad thanks to his performances for OL.
«Antho», is OL's stalwart right-back.

Kudos must also go toLisandro Lopez, who always seems to score at the crucial moment - like when he scoredi n the Coupe de France final against U.S Quevilly - and who is a true leader with or without the captain armband. The Argentine always sets the example when he takes the field.

Finally, we should also spare a thought for Cris and Lloris, who moved on from the club in the summer shortly after lfting the Trophée des Champions in New york... Recoginition must go to all that they brought the side in their time at Olympique Lyonnais. 