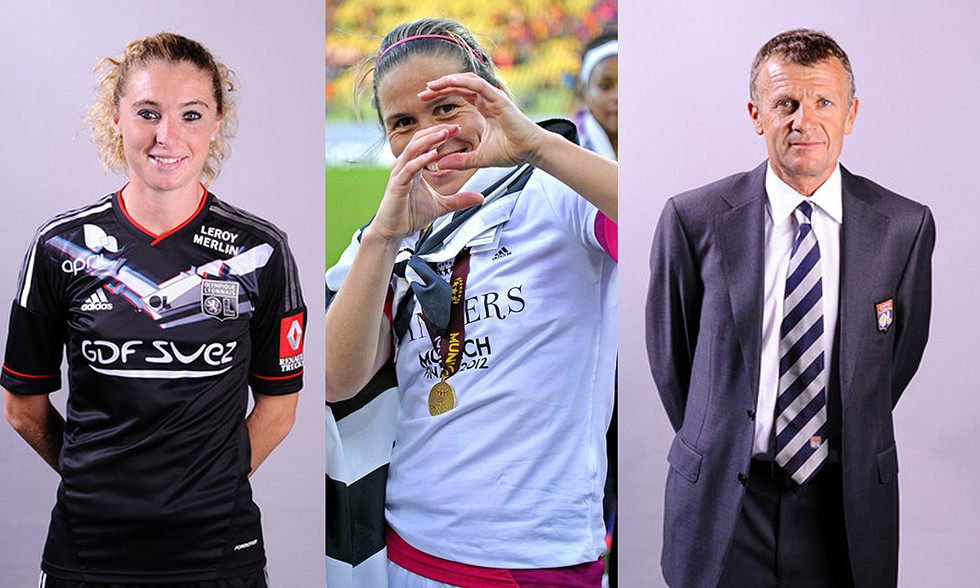 Olympique Lyonnais is very happy to announce the extension of the contracts of OL Women's coach Patrice LAIR as well as those of players Camille ABILY and Laëtitia TONAZZI.
Arriving at the club in July 2010 after having been noticed by Jean-Michel AULAS when he was the National Technical Director in Rwanda, Patrice LAIR achieved, in his first season in charge, the league and Champions League double and then an historic league, Coupe de France and Champions League triple last season. Patrice LAIR has just signed a two-year extension (with an option for one more) and is now linked to the club untilo June 2015.
Aged 28, Camille Abily has one of the most glittering records in French football with two Champions League titles (2011, 2012), six league titles, three Coupes de France, a fourth-placed finish in the 2012 Olympics, fourth place in the 2011 World Cup and a quarter-finalist in the European Cup. The France international (109 caps, 26 goals), who has been voted best player in the last two Women's Champions League finals, is now linked to OL until June 30, 2015. She has already worn the OL shirt 107 times in the league (76 goals) and 25 times in European competition (18 goals). In parallel with her stunning playing career, Camille ABILY has been preparing for her coaching qualifications and last week participated - along with Zinédine ZIDANE, Grégory COUPET and Sonia BOMPASTOR - in a three-day training seminar at Tola Vologe, organised by the National Technical Authority (DTN).
At 31 years of age, Laëtitia TONAZZI is in her very first season with OL, having spent the majority of her career so far at Juvisy, but has just signed an extension that will see her remain with OL until June 2014. The international forward with 55 caps to her name has already scored 16 goals in just 15 league and Champions League matches for OL.
The contract extensions for Camille ABILY and Laetitia TONAZZI - added to the recent extensions of Elodie THOMIS, Lara DICKENMANN, Eugénie LE SOMMER, Amandine HENRY and Louisa NECIB - demonstrate OL's very high ambitions not only for this season, but for those that lie ahead as well.