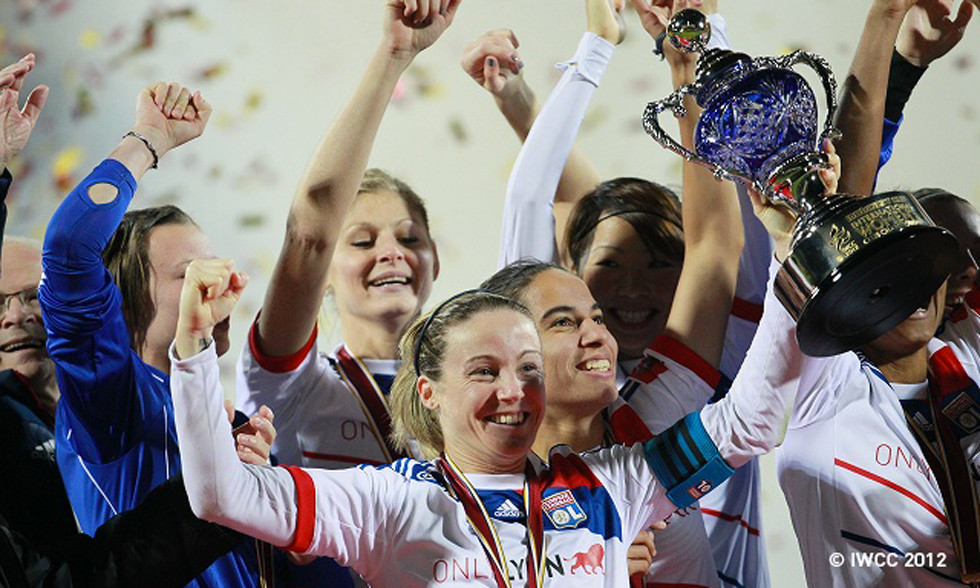 Late in the evening in Japan, OL won the inaugural final of the Women's World Club Cup, 2-1 (a.e.t.) over INAC Kobe.
Tokyo, Nack5 Stadium, final of the MOBCAST Cup. INAC Kobe Leonessa 1-2 OL Women (1-0 at half-time).
Fear, anger, hope and then joy: OL rode an emotional rollercoaster before finally winning out in the inaugural final of the Women's World Club Cup. In the Land of the Rising Sun, the OL ladies came close to cracking under the pressure from INAC Kobe after So Yun scored just before the break. But the physical and mental resources of Patrice Lair's charges once again paid off, but not a minute too soon.
'Supersub' Corine Franco, playing as a striker, got OL back on track with ten minutes of regulation time to go. Then captain Sonia Bompastor fired home from the spot, converting the decisive penalty awarded after a foul on Tonazzi... OL won the match and the trophy, once again writing their names into the history books of international women's football.
Réactions 

I hope that the spectators appreciated OL's style of play. I'm very proud to have participated in this tournament and above all of to have come to the country that's home to the World Champions, who fully deserve their title. It was a high-level tournament and we were lucky enough to win it. It would be great if the tournamet can take place again next year. Big thanks to the Japanese fans who turned out and I wish them the best of luck in the future.
We're happy to have won because tonight we showed the quality of our team. We're overjoyed with the title of World Club Champions. The tournament was incredibly well-organised and we had a great time. Thanks for the warm welcome and we hope to see you again next year!
It was tough to come back from a goal down. Japan is a magnificent country; we felt that we were being spurred on by a whole people.
---

Teamsheet
Referee: Kim Sook Hee (South Korea) assisted by Shiho Ayukai (Japan) and Takashi Makino (Japan).
Inac Kobe Leonessa:
1- Ayumi Kaihori; 2- Yukari Kinga, 5- Junko Kai, 22- Rebecca Moros "Becky" (then Takara 74') - 8- Homare Sawa; 10- Shinobu Ohno (c), 4- Asuna Tanaka, 7-Ji So Yun (then Minamiyama 106') - 21- Beverly Goebel-Yanez (then Nakajima 106'); 9- Nahomi Kawasumi, 11- Megume Takase. Coach: Hoshikawa Kei.
Olympique Lyonnais:
26- Sarah Bouhaddi; 11- Laura Agard (then Franco 53'), 5- Laura Georges, 3- Wendie Renard, 18- Sonia Bompastor (c); 6-Amandine Henry (then Tonazzi 61'), 23- Camille Abily, 10- Louisa Necib (then Bussaglia 106'); 12- Elodie Thomis, 8- Lotta Schelin, 9- Eugénie Le Sommer (then Dickenmann 46'). Coach: Patrice Lair.
Goals: So Yun (39') for INAC; Franco (80') and Bompastor (103') for OL.
Yellow cards: So Yun (59') ; Kaihori (69') for INAC; Dickenmann (93') for OL.