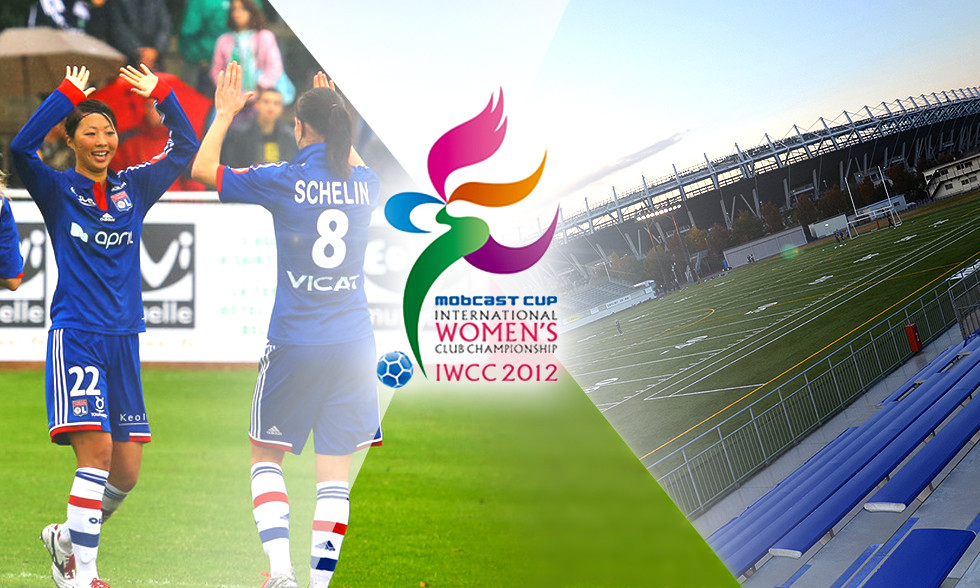 OL took on NTV Beleza - reigning Japan Cup champions - in the semi-finals of the Women's Wolrd Club Cup... A clinical OL Women's side qualified for the final despite some nervy moments...
Komaba Stadium, semi-final, NTV Beleza  2 - 5 OL (half-time: NTV Beleza 0 - 3 OL)
OL: Bouhaddi – Franco, Agard, Renard (then Georges 46'), Bompastor (cap) – Henry (then Otaki 61'), Necib (then Abily 46'), Bussaglia – Thomis (then Le Sommer 61'), Tonazzi (then Schelin 57'), Dickenmann. Coach: Lair.
Goals: for OL, own-goal (3'); Dickenmann (5', 58'), Necib (22'), Schelin (60'); for NTV Beleza, Kyriou (54'), Nagasato (87')
Yellow cards: for OL, Renard (27').
---
For their first match in the competition, Patrice Lair's ladies were up against stiff opposition in the club who won the last Japan Cup (for the tenth time) and who have won 12 domestic championships. Knowing the quality of Japanese women's football - the naitonal side won the 2011 World Cup and took silver in the London Olympics - Ol were expecting a tough, high-quality match. Patrice Lair chose to rotate his squad for the match, leaving Schelin, Abily, Georges and Le Sommer on the bench...
The match sparked off early, with crosses from Tonazzi (3') and Thomis (5') setting up goals for OL, the first an own-goal forced by Thomis and then a header from Dickenmann… OL were already into the final! The OL ladies controlled the game, thanks notably to their superior fitness. Nonetheless, the Japanese side showed all of their undeniable technical and collective qualities.
OL added a third as Necib (22') hammered a hot in off the bottom of the bar after a coursing run from speedster Thomis had provoked a goal-mouth scramble. In the aftermath of this powerful goal, the Japanese side drew two saves from the impeccable Bouhaddi.
Beleza stuck to their principles, however, continuing to play lively, attractive football filled with short passes. Bouhaddi was called into action again from a point-blank shot (40'), and the France 'keeper could take a lot of credit for her side's going into the break with a 3-0 lead (three goals from six shots).
The second half started with a scramble in the OL area, followed by a menacing Japanese incursion where the striker fluffed her lines. Beleza held possession and used their pace and movement, but with no change on the scoreboard... until Kyriou bagged a deserved strike (54'). OL were left reeling, but only for the four minutes it took Thomis to provide the assist for Dickenmann's second. Schelin and Camily came on and linked up beautifully as the Swede scored OL's fifth (60'). Done and dusted... the OL women seem to have the knack of setting things right at exactly the right moment.
Patrice Lair made all five available substitutions, with Otaki receiving a huge ovation from her compatriots in the stands. The local side kept on pushing, combining well but losing their composure with the final ball. It was tough for them to move the European champions around. Nagasato nonetheless added a second for Beleza (87') following a defensive error in the OL ranks.
It was no cake walk to obtain qualification for the final, but OL's performance deserves respect, re-taking the upper hand after giving everything as they took a four-goal lead. A performance worthy of champions, with Sarah Bouhaddi pulling out some awesome saves and Thomis involved in three of OL's five goals. Now to Sunday morning's final and, we hope, a new piece of silverware...
STATISTICS
Shots: OL 6 on target and 8 not on target; NTV Beleza 7 on target, 3 not on target.
Bouhaddi: 9 significant saves, including 3 decisive ones in the first half.
REACTIONS:
Patrice Lair:
"Tactically, we had the advantage because we knew to take them on the counter. That's what we did, and we did it well, getting in behind them. I think that we're not really capable of mixing it in this domain with these teams. They're very good teams who track back well in defence with a lot of movement and technical skill. We had to play a style alternating between possession play and long balls, but we adapted well and were 3-0 up at half-time. Conceding two goals was a shame, though, especially the second one. Laura Georges made a mistake she should never have made. But we've qualified, and now we're preparing for the final on Sunday, where we will need to lift our game once again if we want to have a chance of winning this trophy."
Lara Dickenmann:
"This Japanese side played extremely well on the ball. We haven't run after the ball like that in a long time. Usually, it's us makoing the other side run. It's a great motivation boost to play a team like this. It wasn't easy... and the result could have gone either way, in truth. OL's biggest strength? Our squad. We have a squad of 20 or 22 players and when there are substitutions, the team is never the weaker for it. This group of ladies has been together for two or three seasons now, and that really helps us out on the pitch."
Amandine Henry:
"It's a great result even though in terms of our play, it wasn't what we're used to. We got moved around a lot; they're a good side with some great players. They're very lively and play well as a team."
Elodie Thomis:
"We weren't that good today, and the result doesn't accurately reflect how the game played out. We were effective in defence and we made the most of their defensive errors. Now we have to get back down to braass tacks ahead of Sunday's final; it'll be a tougher match physically if it;s the other Japanese side that wins through. But by then we should have recovered from our jetlag and be ready to give our all."