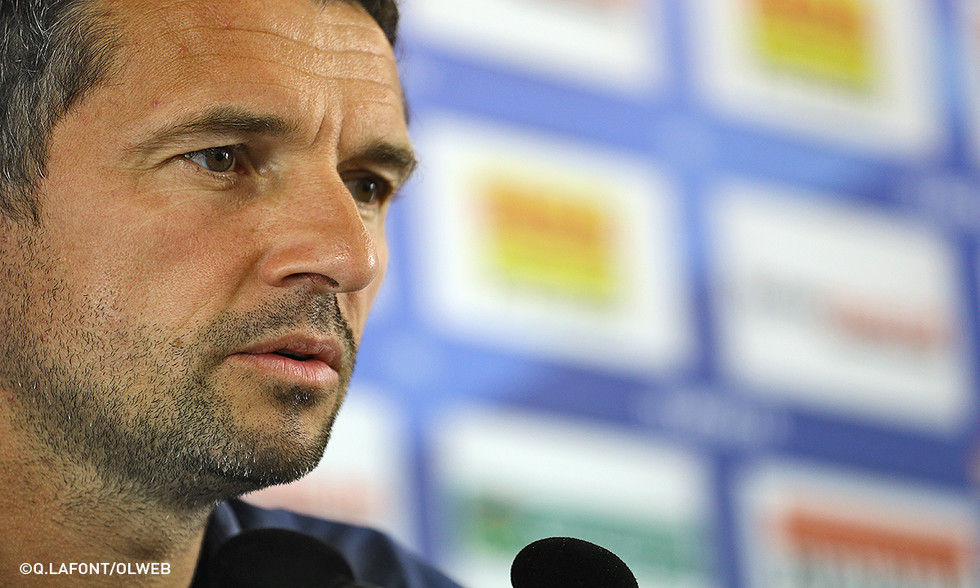 Garde talked about the upcoming match against Stade de Reims... upcoming fixtures... and a possible upgrade of OL's objectives for the season after a great start...
INJURY REPORT
"Bastos? the news is very reassuring. He's making progress; he's no longer in pain. He's still a way off playing again, but he's getting closer to training with the ball again. Briand? He's also doing well; his recovery is on schedule."
THE FACT OF NOT HAVING TOO MANY INJURIES TO CONTEND WITH
"Given the rhythm of our schedule, and the importance of the matches we've been playing, it's a huge factor. It also makes a big difference in training: it allows players to learn from each other."
THE IMPACT OF THE RETURN OF THE INTERNATIONAL PLAYERS
"It has gone well... I'm thinking notably about Bafétimbi [Gomis] and Anthony [Réveillère]... All the lads have come back in top form. I hope they bring their high spirits and winning mentality to the team... I have no doubt they will infuse the squad with their love of winning."
BUSY SCHEDULE
"There's always room to learn from playing matches in quick succession, especially matches against quality opposition. But we're here to experience moments like these. And also, if you knew you were going to win before the match even started, it wouldn't have the same flavour. We're approaching these matches from the best possible position. What we've achieved so far has given us a strong perspective. Let's go!"

BETTER AT HOME THAN ON THE ROAD
"I wanted our fans to really want to come and see us play... I wanted the supporters to really connect with the players through our victories but also our attitude, our frame of mind and our behaviour. The players have stepped up and their efforts have been rewarded with victories. Stil, we haven;t played any of the so-called strongest teams at Gerland yet. We mustn't count our chickens."
14:00 KICK-OFF
"It's a good time for the fans, at this time of year. We need to do our best to adapt to it. It changes the way you prepare for a match, the daily routine... But we mustn't let it be an excuse for anything at all."
THE VISIT OF STADE DE REIMS
"I'm just about as wary as I could possibly be. This team has made quite a few clubs eat humble pie this season. Even when they lose, it's usually 1-0... They're a difficult side to move around. They've had a great start to the season, but right now they're experiencing a bit of a dip in form. They have the insouciance of a promoted club and they'll be coming to Gerland to make an impression. This match is a very important one for us."
LISANDRO LOPEZ
"He played his part in our win in Sochaux. He might not have had the best luck in front of goal with the chances he had. But he's working hard at training to get sharp again. Like any striker, he's frustrated when he doesn't score. But I have no doubts about him. He's an exceptional player who can turn any match in our favour."
OL'S CHANGING PLANS
"We haven't change our objectives insofar as we're still aiming for a top-three finish or a European place. But beyond that, why shouldn't we shoot for the title, as eight or nine other clubs are doing? If we didn't want to win the championship, we'd be idiots! Obviously PSG has some pretty convincing arguments to be favourites, and you can see that as they play more and more matches. So why not believe that our good form holds just as much promise? Why should we rule out a tilt at the title? I'm a very realistic person, but you can be realistic and still have high hopes. But there's no point in making big headlines out of what I'm saying. I'm a competitor, and I don't want to tell myself that something is impossible."