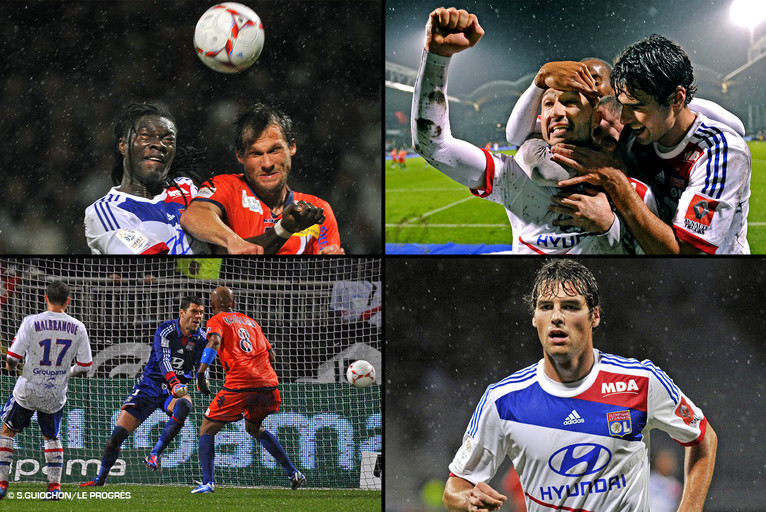 As they prepare to wade back into the Europea League and Ligue 1 duties, OL can pride themselves on having taken maximum points in both competitions since the international break. A look back at these important wins as well as the Coupe de la Ligue elimination.
A SAVE
Withou Rémi Vercoutre, Lyon might not have managed to win out 2-1 against Bilbao (2-1). While Les Gones thought they had done the hard work when Lisandro scored with an imperious header (1-0, 53'), the end of the match turned a little bit crazy... and turned in favour of the Basque side. Ibai Gomez, first of all, levelled the scores with a deflected shot (1-1, 77'); then Susaeta came close to landing the killer blow. The young winger found himself one-on-one with the OL 'keeper, and took the time to find the right shot, but Vercoutre pulled out the decisive save. With a superb punch, he destroyed Bilbao's chances of pinching the win. A crucial save; within the minute, Briand handed OL the three points by scoring his side's second (2-1). Rémi Garde's men are now well on track to qualify for the last 16, having taken all nine points that have been on offer so far.
A GOAL
OL took on Brest for the resumption of Ligue 1 action after the international break, obliged to bag a win in order to get back on track. After three matches without a win, OL came out all guns blazing in a 4-4-2 formation. Les Gones dominated (65% of possession), but their opponents from Brittany defneded courageously. It took a sublime chipped pass from Malbranque - which Gomias latched onto delightedly - to break the deadlock. Lyon's top scorer made no mistake as he lobbed Alexis Thébaux, scoring the only goal of the game (his fifth of the season) despite Brest's multiple attmepts on the counter. A crucial goal. OL won by the slimmest of margins and moved back into the top three.
A LOSS
The hellish atmostphere of the Stade du Ray: OL travelled to Nice in the Coupe de la Ligue. Given a cold welcome from the outset, OL never managed to get on track. Despite Gomis' levellng the scores (1-1, 8') almost directly after Eysseric's successful spot-kick (1-0, 4'), Les Aiglons were quickly back in front thanks to Traoré (2-1, 9'). Civelli poured more cold water on OL on the quarter-hour mark. OL looked set to react positively in the first half before falling into a strange torpor under the heavy rain. Bisevac's sending off (89') underlined OL's failure on the Côte d'Azur (3-1). Beaten finalists last season, Lyon crashed out in the last 16 this time around. And deservedly so.
A MATCH
OL's dramatic clash with Bastia encapsulated all of Les Gones' strengths and weaknesses. Even when they were struggling, principally in defence, Lyon showed an exmplary enthusiasm and attitude. At ten against 11, Rémi Garde refused to change his attacking line-up. And so it was, after an umpteenth run in behind the Batia defence, that Lacazette was hauled down in the area, and that OL's ambition began to pay off. Lyon provoked the foul form the Corsican side - with Lisandro converting from the spot (3-2, 56') - as well as the ensuing send-off. First Briand and then Malbranque, in injury time, widened the gap even further. This 5-2 thriller really painted an accurate portrait of OL in season 2012-13.
AN OPPORTUNITY
An opportunity missed, if we're to be honest. OL's clash with Marseille at the Vélodrome was postponed due to winds exceeding 100km/h. The LFP's Competitions Commission re-scheduled the match for November 28, both clubs having been eliminated from the Coupe de la Ligue. This 'Olympico' is a highly anticipated affair, because if it were to be played today, the Ligue 1 lead would be at stake.
ABSENCES... AND A RETURN
Michel Bastos, out of action since September 16, had to concede his left flank to LIsandro after scoring three goals in four appearances. The Brazilian is still suffering from a recurring back complaint. The OL infirmary also had to admit Clément Grenier, suffering from an Achilles tendon injury sustained on France U-21 duties. As for Yoann Gourcuff, he made his big comeback to the first team in Nice - after a two-and-a-half month absence. Les Gones' number eight looked in fine form, and he backed it up with a full 90 minutes against Bastia. If he has finally managed to rid himself of niggling injuries, the former Bordeaux playmaker could prove a huge plus for OL this season.