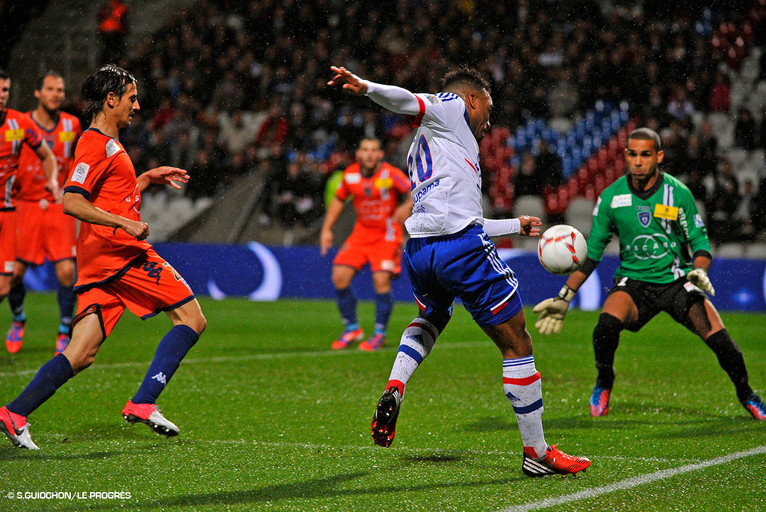 An insane goal-scoring scenario, a spectacular attacking match and a precious home win for OL at ten against 10...
At Lyon's Stade de Gerland, ca. 27,000 spectators; rainy waether; OL 3- 2 Sporting Bastia (2-2 at half-time); referee Mr. Fautrel
OL: Vercoutre – Réveillère, Lovren, Koné, Dabo – Gonalons, Malbranque – Lacazette (Briand 86'), Gourcuff, Lisandro (cap) – Gomis (Fofana 64'). Coach: Garde.
Sporting: Novaes – Cioni (Yattabaré 67'), Choplin, Marchal, Harek – Cahuzac (cap), Rothen, Khazri – Maoulida (Palmieri 55'), Modeste, Thauvin (Sablé 84'). Coach: Hantz.
Goals: for OL, Gonalons (4'), Lacazette (26'), Lisandro (55', pen.), Briand (92'), Malbranque (94', pen.); for Sporting, Khazri (28'), Rothen (31', pen.)
Yellow cards: for Sporting, Choplin (18'), Harek (49', 54'), Palmieri (69'), Yattabaré (89'); for OL, Koné (59')
Red cards: for OL, Lovren (30') ; for Sporting, Harek (second yellow 54')
It was back to league action for OL after their shock Coupe de la Ligue exit at the hands of Nice last Wednesday. Lyon were in a great position to climb up the table as they have a match in hand (against OM) and with PSG losing to ASSE. It was on the cards for Rémi Garde to make some changes; Gonlaons and Réveillère returned after being rested in Nice... Bisevac suspended... Vercoutre returned to goalkeeping duties... Lisandro lined up on the left of attack. One of the big questions surrounding this match? How Ligue 1's worst defence would deal with Gomis and co., especially with Yoann Gourcuff back in the side after making his comeback in the Coupe de la Ligue on Wednesday. Also, would Sporting have the means to continue their impressive unbeaten run?
After a brief hesiation, OL quickly kicked into gear, Lisandro seeing his shot blocked before Gonalons hammered home Lovren's header from a Gourcuff free kick. Rhythm and attacking play were hard to come by on the slick surface, but OL ran amok over the Sporting midfield, creating chances through Lacazette and Gourcuff, which were saved by Novaes. But the Cosricans weren't taking it lying down, with Khazri getting a dangerous shot on target... and what a goal Lacazette scored at the end of a sweeping team move involving Lisandro, Dabo and Gomis. Straight afterwards, Khazri got Sporting back into the match, hitting on the counter after winning the ball in midfield. This crazy match... got even crazier when Lovren was sent off for a tackle on Thauvin. Rothen equalises from the spot! The OL defence hadn't joined the party, with Khazri and Rothen deftly pulling the strings for Sporting.
Gonalons moved into the centre of defence. Anything still seemed possible in this match where expectations flew out the window. Vercoutre pulled out a decisive save from Rothen's shot (42') after an umpteenth counter-attack from the visitors... Gourcuff threatened from a free kick just before the break and Lisandro saw a goal refused for off-side. 2-2 at the break in this thrilling match!
It was still raining cats and dogs as Vercoutre pulled out another commanding save, this time from Modeste (48'). The match then took another turn as Harek fouled Lacazette in the area. Red card and a successful penalty for Lisandro (55')! Rémi Garde reorganised his side, bringing Fofana on for Gomis. OL worked the ball intelligently with Gourcuff in fine form, Malbranque tireless, Lisandro pushing the limits and Lacazette making intelligent runs. The Corsicans remained dangerous, however, but Modeste just couldn't seem to get the ball to go in. Then Malbranque set up Braind to widen the gap in extra time, before another penalty went OL's way... Malbranque beat Novaes... 5-2! An excpetionally entertaining match.
Despite the soggy conditions, and even though not everything was perfect, it was a thrilling match that yielded a precious three points for OL.