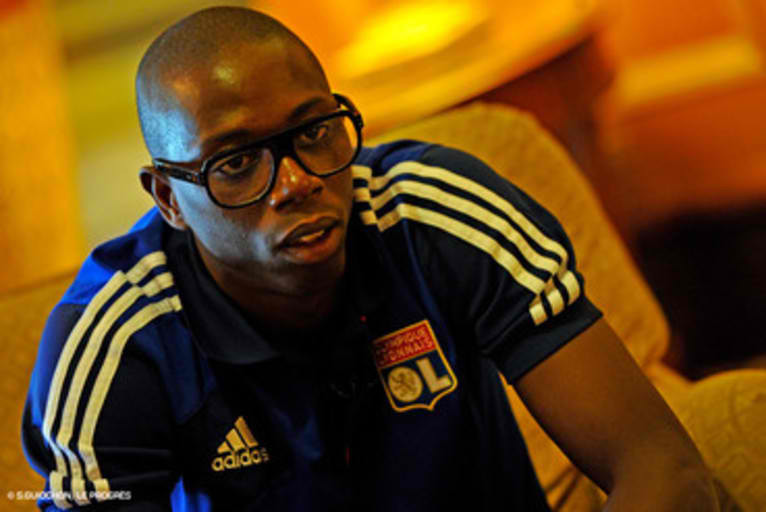 Since the beginning of the season, Mou Dabo has featured regularly for Rémi Garde... and the OL wing-back recognises that this has made it much easier for him to be consistent in his performances...
In three months, Mou has played 816 minutes, already almost half of the time he clocked last season (1,686). Can he expect a change of status in the squad? "I had already started playing more at the end of last season. I began the new season with the intention of keeping that dynamic going. One of my main objectives is to play more..." The former Saint-Etienne man has already made the most of his increased playing time to be a part of winning the Coupe de France and the Tropée des Champions... the first silverware of his footballing career. A wonderful milestone in his career.
Playing more brings a lot of advantages with it. "Necessarily, it makes things easier for me. I don't have to think things over all the time. You test yourself and you improve out on the pitch; you have rhythm when you're playing. It's much tougher when you're on the bench and only play from time to time. You get to know your teammates better. I make fewer mistakes, too. Before, I had a surplus of energy, of enthusiasm and aggression, and the referees didn't like that too much. This season, I've been able to channel all those things. I know when to get stuck in and when to hold back." A new Dabo? He's gaining experience, and he's grown as a player, but his personality remains the same.

"Yes, I give everything. For me, with my qualities, it's a question of survival... I have to play to my strengths…"

Mouhamadou isn't looking to be flashy when he's out on the pitch.
"My first inention is to play consistently, to be in the right place at the right time be it in defence or attack. Courage? 

Yes, I give everything. For me, with my qualities, it's a question of survival... I have to play to my strengths…"
This quick-on-his-feet defender recognises that he is sometimes prone to trying to play out of defence rather than clearing the ball... and that he sometimes puts his side in danger... but playing at left-back or right-back, in different formations or with different teammates doesn't pose a problem for him. 
"It makes no difference to me. You just need to be focused. At any rate, we work hard in training to be adaptable to any number of different situations."
Working day in and day out is the motto of this dedicated defender who is a big fan of Barcelona wing-back Daniel Alves, and who has cleaqr memories of Barcelona striker David Villa.
"He's always somewhere between our lines, he breaks free a lot. He reads the game well and can whip out a dangerous shot before you know what's happening."
Mou is a wing-back who very rarely scores. "If I can delivera good assist for 'Bafé' or 'Licha', that fantastic for me. They know how to score goals. Scoring goals does great things for a striker's confidence and I'm happy with that... But if I have a chanc to score (he scored once with ASSE), it would be great. But first and foremost, my objective is to defend well and to give the forwards some good service."
Consistent in his performances in the matches agaisnt LOSC and Sochaux last season - matches he uses as a benchmark - Dabo is categorical ahead of the visit of Sporting Bastia. "We have to give our all. We should win every game we play at Gerland, when we have our fans there to spur us on. Gerland is our turf, and our opponents should be made well aware of this fact. Bastia play their own game well at home, but they'd love to take some points from their travels. It won't be easy, but it's up to us to make our job as easy as it can be. We mustn't focus too muc on our opponents: the biggest danger comes from us. At Bastia, I know Modeste well, we played in the Frnace youth teams together."