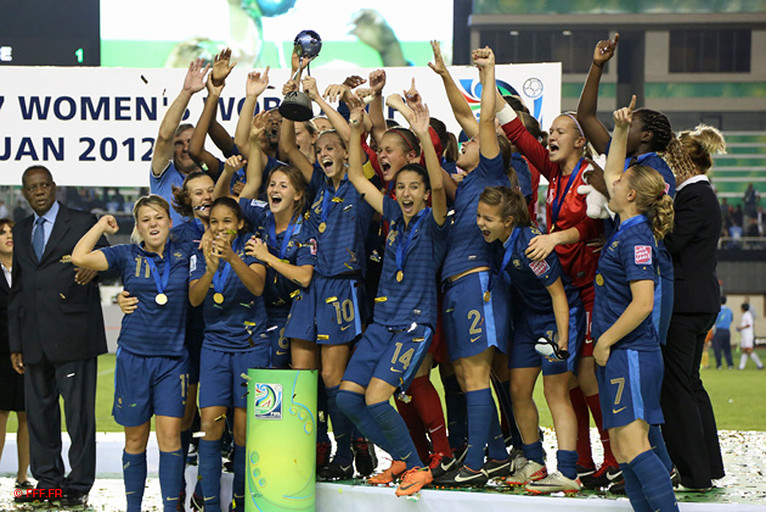 Two of OL's four U17 world champions were back at training with their club-mates on Tuesday afternoon...
The France U17 side made history on Saturday in Azerjaijan when they lifted the U17 World Cup with a thrilling penalty shootout victory over Korea DPR (1-1, 7-6 on pens), with a squad that featured no less than four Olympique Lyonnais girls.

Cindy Perrault and Delphine Cascarino train with the FFF at Clairfontaine during the week, while Noémie Carage and Ghoutia Karchouni, train with OL. The two world champions were back at the Plaine des Jeux de Gerland on Tuesday afternoon and after being congratulated by coach Patrice Lair and teacher Arnaud Favrelière, they spoke to OLweb.fr...


How was the World Cup in Azerbaijan?
Ghoutia Karchouni: "It was a fabulous experience. It's a rare thing to play in a World Cu pat just 17. To have gone the whole way and won it, is just fantastic. We are delighted to have done France proud."
Noémie Carage: "It was an amazing experience, and I think we've all grown a lot. We played some teams that were really, very strong. It was so different to the French championship."

What does this title change for you?
Ghoutia Karchouni: "It doesn't change too much apart from an extra line on my CV. I'm the same as I was before."
Noémie Carage: "We back in our day to day reality now, back to school and then off to training. But the desire to play professional is even stronger now."
Ghoutia Karchouni: "The ultimate goal is to win something with the France senior team. The U17 is good, but we have to try to win the real World Cup too. Now it's up to us to push the pros as hard as we can to try and get some playing time in the first division."