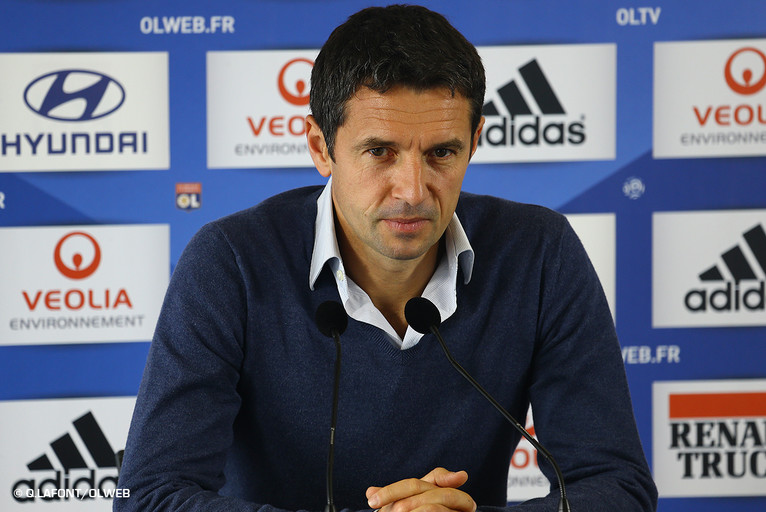 Rémi Garde fronted up to Thursday's press conference at Tola Vologe and spoke about OL's start to the season and in particular, the positioning of Lisandro Lopez...
With no less than eight internationals absent from training (Gonalons, Gomis, Grenier, Lacazette, Benzia, Bisevac, Lovren and Koné), how is training going?
We adapt to the situation. If my players are picked to represent their countries, that means they are playing well. Even if our squad isn't as big this year, we are working differently with a smaller squad. The coaching staff take advantage of these international breaks to work on physical recovery because we are prearing for a run of matches every three or four days. Between now and Christmas, we won't get much time to recharge the batteries.
When are you expecting Yoann Gourcuff and Michel Bastos back?
Yoann should resume training on Monday... I can't say much more on what will happen in the coming week in terms of his return to playing. For Michel, we are expecting a slower return to action. He has a personal problem which has had a big impact on him and that is added to his recurrent back problems. It's nothing too serious, but we are looking after him and consulting with him. We will see how he's feeling. We are working with him on a daily basis, but i won't hide fron you the fact that it's the personal problem which is the main thing keeping him off the pitcvh at the moment.
In the game against Lorient, Lisandro seemed frustrated to be playing on the left flank. Does that tempt you to rush back Bastos?
I would love to have a full squad to choose from. I say again, Licha's best position isn't necessarily on the left, but I think about what's best for the team. My role as coach is to find the right balance between the individual and the collective. That my players feel good, particularly those important players is a priority, so I can't rule out a return in the middle. I talk with him and I will make my choices after consulting with the players. Even if Licha is crucial to our play, he also needs the rest of the team to play to his best. I'm not saying that to put him in his place because my lads know me and respect what I say. In my opinion, we need the squad to play well for 90 minutes to get the best out of everyone.