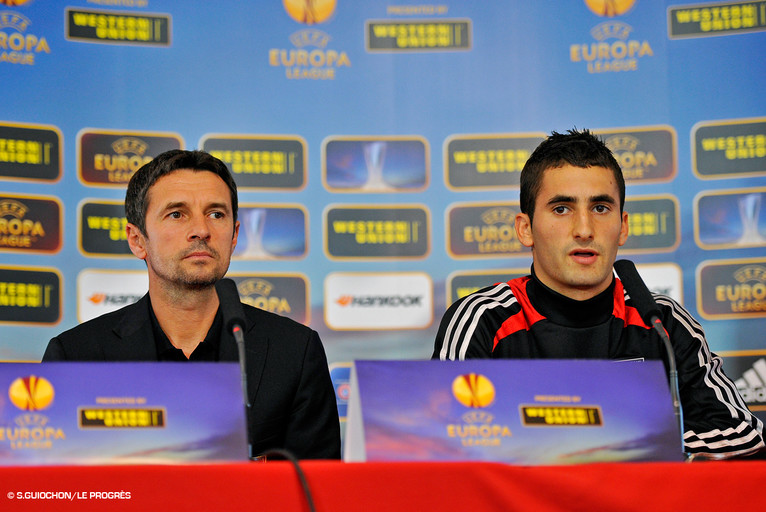 Rémi Garde and Maxime Gonalons fronted up to the traditional pre-match Press Conference at the Stade de Gerland ahead of Thursday's Europa League group clash against Sparta Prague…
18:00 CET: Sparta Prague MD -1 training
While Les Lyonnais opted to train at their Tola Vologe complex, the Sparta Prague squad trained at the Stade Gerland.
17:45 CET: Sparta Prague press conference
While Les Lyonnais were training, Sparta coach Lavicka and the youngster Kadlec fielded questions at the press conference...
Kadlec and Lavicka both played their cards close to their chests: "We are not scored of OL, but we respect them and we want to get a good result on Thursday..." The coach added: "We hope to represent Czech football well. I saw OL's match against Ajaccio…" While for Kadlec, he believes a draw would be "an excellent result."
Concerning OL, both agreed that any changes made by Rémi Garde to his starting XI, won't affect the quality of the French side's performance. "OL will be very strong, with or without Bastos, who could be replaced by Lacazette…"  How far could Lyon go in this competition? "It's difficult to say because there are a lot of good teams in the Europa League."


Kadlec claimed last weekend's loss in the championship was behind them, while Lavicka admitted "We really missed the injured Matejovsky. But he trained this week and he will be in the side or on the bench against Lyon."
17:00 CET: Training
Training started with a gentle 15-minute warm-up, open to the media...
The Argentines Lisandro and Monzon.
Like in the match, Steed Malbranque dictates the tempo.
Captain and coach in deep discussion...
16:30 CET: OL press conference

MAXIME GONALONS


How is the team feeling ahead of this game?
"Pretty good after our start to the season. We are confident. But this is a different competition to Ligue 1. It's European competition, even if it's not the UCL."

Is the priority the Ligue 1 or the Europa League?
"Personally, I play to win every game. The Ligue 1 remains the main objective for the club, but the Europa League is a great opportunity for us. We will give it everything to go as far as possible."

Do you remember the last match OL played agaisnt Sparta?

"I was sitting in the stands when we won 5-0. A lot of kids from the youth academy had played. It was a great result."

What does playing alongside Malbranque change for you?
"Not much, aside from the fact that he is a great player. It's very easy to play with him. He is a big help to the team and I hope it continues. We know how good he is. He's been an excellent signing."

What sort of game do you expect tomorrow?
"We don't know them that well. We'll study them on the video. They are used to playing in Europe. We will be well prepared."

Are OL one of the favourites for the Europa League?
"I don't know. There are some very big teams. It won't be easy with some good Spanish and Portuguese teams."


REMI GARDE
OL have warmed up well for the Europa League...
"We've made a good start to the season, playing against certain teams, so everything is relative, without forgetting the win over Toulouse. Given the uncertainties during pre-season, I'm very happy with how we are ahead of the Europa Ligue, but these are two different competitions."
Is this your first test of the season?
"It's a different test. Every match is difficult to win, even if everything is relative. Thursday will be a different opposition. Sparta Prague have qualities, they are young and organised. We know Czech football. We will be careful."

Do you already have one eye on the match against Lille this weekend?
"I have a near full-strength squad, minus Gourcuff, Bastos and Mvuemba. I'm looking for the best team for Thursday, in the knowledge that we have a very important match against Lille this weekend."
OL are controlling matches at present... because of the midfielder partnership of Malbranque and Gonalons?
"That could be one reason. But opponents are always cautious when they come to the Stade Gerland. That means we can enjoy most of the possession. Possession is also something we work on, it's part of the club's culture and will carry us forward."

Could an upset loss in the Europa League be a serious setback?
"OL was a French trailblazer in the Champions League. It's very important that we play well in the Europa League. We need to play well against Sparta Prague."


13:00 CET

The Sparta Prague bus awaiting the squad at the airport...

Straight off the plane and into their own bus for the Sparta delegation
The club from the Czech Republic capital has a number of young players...