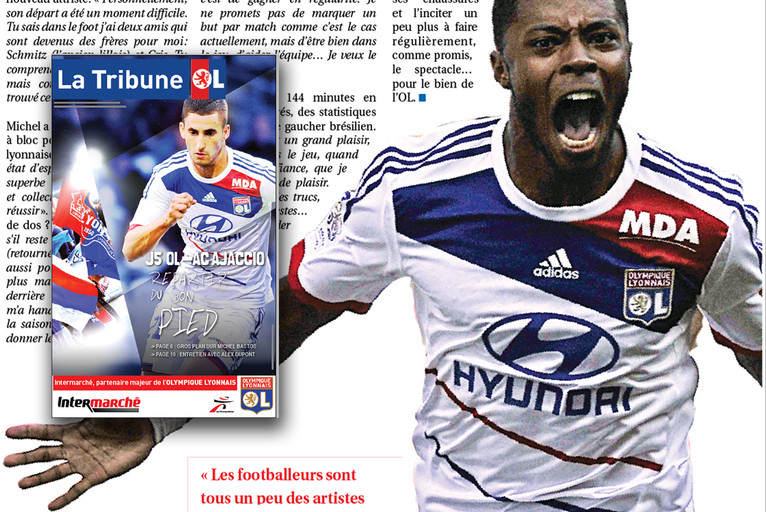 As his three goals in just 144 minutes playing time suggest, Michel Bastos is in form and enjoying his football... and the Artist has plenty of ambition for the coming season...
In July, Michel wasn't happy, wasn't talking. He was barely playing and didn't even travel with the team to the USA. His departure was almost a done deal… But the negotiations dragged on... Then slowly he was back in the squad... then in the team, on the pitch and soon on the scoresheet... The smile was back and in the end, the mercato didn't send him to new pastures. "I wasn't happen with everything that happened this summer... It was very tough off the pitch. I was upset and angry...." But all of that is the past now, even if the last-minute transfer of Cris to Turkish football was another low point. "For me personally, his departure was tough for me. You know, in football there are two teammates and friends that have become light brothers: Schmitz (the ex-LOSC player) and Cris. You know that it will be hard. I was sad, but happy for Cris to have found a solution. I will go an visit him."

Michel has turned the page and is more motivated than ever as he embarks on a fourth season with OL. "I've got a good attitude. I want to have a great season, both individually and collectively. We have all the ingredients to succeed." Are his back problems a thing of the past? "Yes, that's finished, even if there is the occasional little twinge. My goal against Troyes was to show that it wasn't hurting any more (laughs). Without making excuses for myself, the back problem was a huge handicap for more than half of last season and prevented my giving it my all."
Footballers are a little like artists. Football is entertainment.... you know I like to try and pull off the spectacular when I'm playing...
Bernard Lacombe has often said OL was a different side with an in-form Bastos. Michel, is a spectacular player, capable of making the difference: "Footballers are a little like artists. Football is entertainment.... you know I like to try and pull off the spectacular when I'm playing..." But some artists only work part-time... And he admits that has been a problem for him too. "I've been accused of that. But I never chose my matches, I was just not as good in certain games." So the aim for this season. "My goal this term is to be more consistant. I can't promise I'll score a goal every game like I a mat the moment, but I can try and play well and help the team... That's what I want to do."
Three goals in 144 minutes from four shots on target, for the Brazilian. "SCoring is always great, but it's part of football. When your confidence is high, you enjoy playing more. As a result you try more, always with the aim of helping the team..." Can such performances earn a reacall to the Selecao? "That's another objective. I feel it's like before I was ever called up. But I'm not thinking about the World Cup in Brazil, just getting back in the squad and playing regularly..." Between now and then, the footballer can take the time to watch his family grow... The Bastos household is expecting twins: "At first my wife didn't want another child, unless it was a girl." The names of his latest double will most certainly be stitched into his boots and encourage him to turn on the skill and daring as often as possible... for OL!