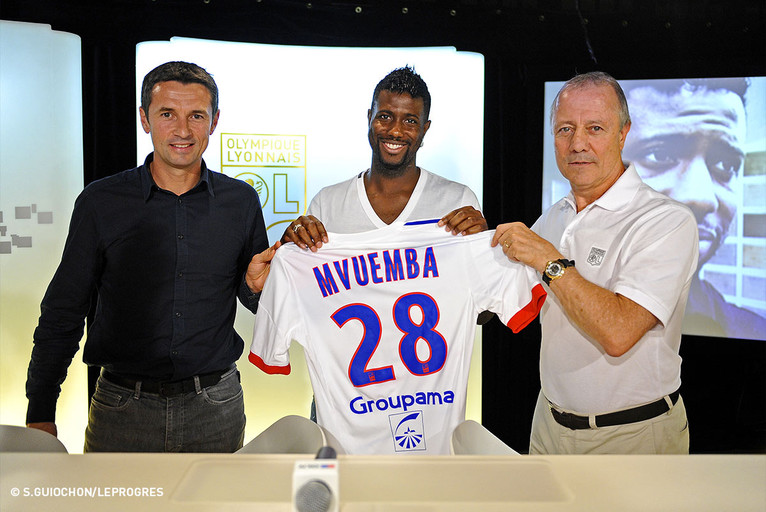 Former Lorient midfielder Arnold Mvuemba signed a four-year deal with OL after playing 118 matches in the last four seasons with Les Merlus...
It was the official presentation of the final summer transfer, as confirmed by OL president Jean-Michel Aulas.

JEAN-MICHEL AULAS
"It's the last operation of the mercato with the chance to further reinforce the squad. At the same time, Enzo Reale has signed with Lorient. Arnold has signed on for four seasons for a transfer fee of €3m as well as possible bonuses associated with his performances and those of the team. It's a transfer in keeping with the club's policy and desire to bring in new talent. Arnold will not be able to play in the group stage of the Europa Ligue."


"The mercato is a difficult period, but the players and staff have been magnificent. Two other people have been very important in this process: Flo Maurice and Vincent Ponsot. I would also like to congratulate Cris who left the club in the best possible manner. He received this opportunity from Galatasaray. Everything went well between us. Throughout this period, everyone expressed themselves with great class. We have a good squad with which to reach our first objectives. The mercato? We tried to economise, while reinforcing the sporting sector. Reducing the wage bill? It's sitting at about €30m. We wanted to bring it down to meet the new Financial Fair Play criteria. We have anticipated. The Budget? It should be around the €110m - €115m mark. I was very involved with the process and in the end, it is in keeping with what Rémi desired. We have a balanced squad. We have had a good mercato."


What are the club's aims now? "To do better than last season... and shine in the various Cup competitions and the Europa Ligue where, along with Les Girondins and OM, we want to honour French football."

REMI GARDE
"I'm delighted to welcome on board Arnold. We had reinforced the defence. We signed Steed. We still wanted another experienced player in midfield. Apart from Steed, it's a very young midfield. Arnold's qualities? His quality of passing is perfect for the way we want to play at the Stade Gerland, where we want to enjoy most of the ball. We didn't have a player of his profile in the squad. We will see how we use Arnold. We will see what works best for the team, with different combinations."

"We had two directions we wanted to take with the mercato. We wanted a certain number of departures for economic reasons, as well as sporting reasons. I also wanted some new faces to rejuvenate the squad. I also wanted some experienced players. I'm satisfied. Now we need to get to work on the project for this season."
BERNARD LACOMBE
"We had Max and Gueïda. Arnold reminds a little of Tiago. He adds a certain edge to our game. He will add a more technical aspect to our game in midfield along with Steed. His signature is a very good thing for us. We have been following Arnold for quite some time."
I'm more of a No.8, I like to have the ball.
ARNOLD MVUEMBA
"My first concrete contact with the club came last Friday. That intensified on Monday. After three great seasons with Lorient, I immediately seized the opportunity to sign for OL, a really big club. I needed to take the next step in my career and I hope to do that with OL. I know Jimmy (Briand) with whom I came through the youth ranks at Rennes. I played with Yoann (Gourcuff). I've signed for a big club. For the moment, I can't talk about aims and goals. First I need to get to know my new teammates... My qualities? I'm most comfortable as a number eight, in midfield. I like to have the ball and help my teammates get in the best possible positions with my passing game."