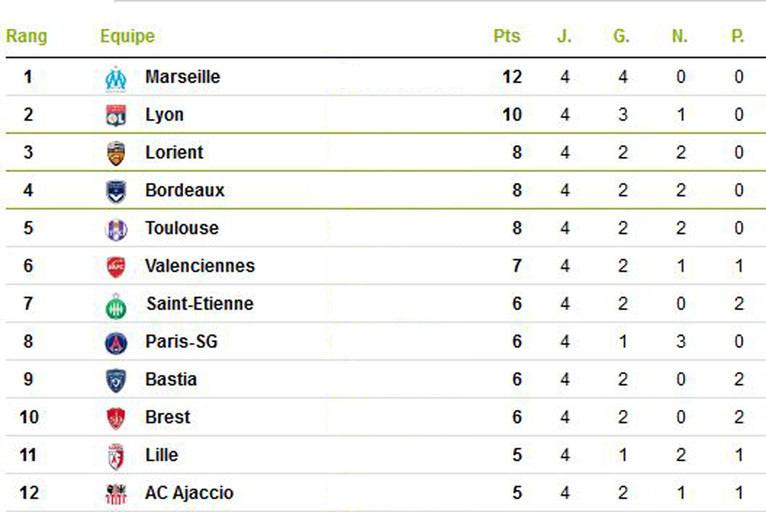 The results of OL's European opponents... loaned players... full-time… crowds… international duty… L1 news ahead of the break…
EUROPEAN OPPONENTS
The first Europa League group stage clash takes place on 20 September against Sparta Prague. Before then, Sparta defeated Jablonec 2-1 and sit atop the standings after six games. In Spain Athletic Bilbao defeated Vallodolid 2-0 (Aduriz and Susaeta); the Basque club have three points after three matches and sit 15th in La Liga. Finally, in Israel, Hapoel Kyriat Shmona beat Maccabi Haifa 3-1 in Week 2 of the domestic league and lead the standings.
ON LOAN
Only one Lyon player is currently out on loan: Mohamed Yattara is with Ligue 1 side ESTAC. He was in the starting line-up against Stade Brestois, playing 88 minutes and receiving excellent reviews. He has started three matches this season, playing 235 minutes. He is yet to score.
INTERNATIONALS
Tola Vologe will be fairly lonely place over the international break. Réveillère, B. Koné, Bisevac, Gonalons, Fofana, Grenier, Gomis, Benzia, Lopes and Umtiti will all be away on international duty.
FULL TIME
Two players have played every minute of five official matches this season with OL: Maxime Gonalons and B. Koné, have played 450 minutes. That means every minute of 14 consecutive matchs for Maxime Gonalons in all competitions (He was last substituted vs Gazelec Ajaccio in the 77th minute). In Ligue 1, he has played every minute of the last 23 matches.
LIGUE 1 AT THE BREAK
OM have taken maximum points from four matches (12 out of 12)
12 away wins
OM, OL, FC Lorient, PSG, Les Girondins, TFC are all undefeated.
OGCN, ESTAC, ETG and FCSM are winless. The FCSM is the only team to have lost all four matches in Ligue 1.
OL, FC Lorient and ASSE, boast the best attack with 9 goals scored in Ligue 1.
OM, boast the best defence with one goal conceded.
Ibrahimovic is the top scorer with 4 goals (all four of his team's goals) from 17 shots.
100 goals scored: 20 headers (FCSM 3, LOSC 3, Sporting Bastia 3…); 6 penalties from 11 awarded (PSG, ASSE, Sporting Bastia, FCL, OL, MHSC); 4 free-kicks (FCL, OL, ASNL, ETG); 13 from corners (Girondins 2, OL 2, Sporting Bastia 2…); 11 from free-kicks (VAFC 2, Stade de Reims 2, FCSM 2…)
31 goals scored in Week 4: the most in a round this season.
The 100 goals by 15 minutes: 15, 12, 14, 15, 15, 29.
47,750 is the biggest crowd this season at LOSC vs ASNL (Week 2).
Pablo Correa was sacked as ETG coach after their loss in Week 4.