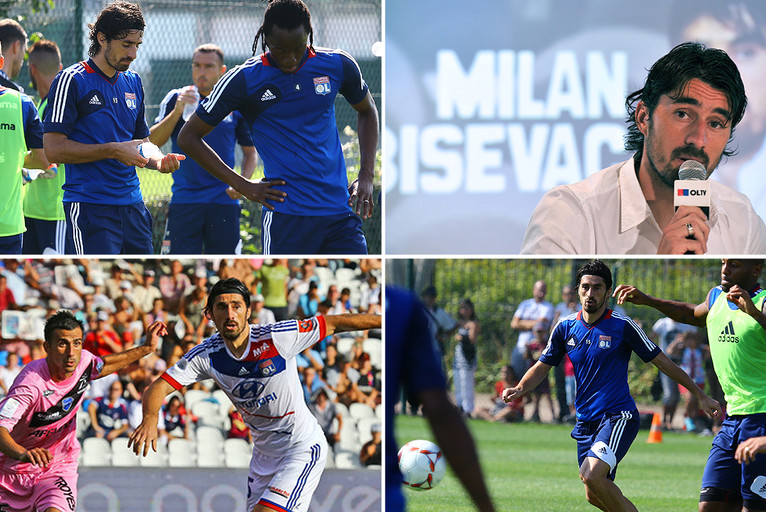 We take a closer look at OL's Serbian recruit, Milan Bisevac who should earn his first start for his new club against... a former club, in the form of Valenciennes...
On the training pitches at Tola Vologe, you really can't miss his silhouette. This solid defender, standing 1.85m tall, long black hair, beard, piercing eyes, he exudes character, confidence, pride, elegance, personality, experience, intelligence... The image you get during a game is the same as that in training, with or without the ball, in rain, hail or shine.
A moment of skill to beat an opponent, a crisp short pass, a precision long ball, a powerful header or an old-fashioned clearance, he puts everything into every gesture, a hand signal, a guiding word, repositioning a teammate; lend an ear, accept the advice.  This guy knows about his business. He is a leader in the defence, a player who doesn't like to be walked all over. He prefers to do the walking! And he's a player who always looks to the best interest of the team.
Milan already seems settled right in at his new work place. He spent time talking about positioning with Bakari Koné; he already has a good understanding with Hugo Lloris; he jokes with Lovren and Bastos… The Serbia international is an experienced player, and a good guy.
He is preparing for his 156th Ligue 1 match that should come against VAFC one of his firmer clubs where is spent three seasons (103 matches including 100 in L1; 4 goals including a penalty against OL). He is looking forward to his first start at the Stade Gerland after playing 5 minutes against ESTAC , replacing Cris. For a first home match, we can wish him a victory, what better way to celebrate his 29th anniversary the day before (31 August).