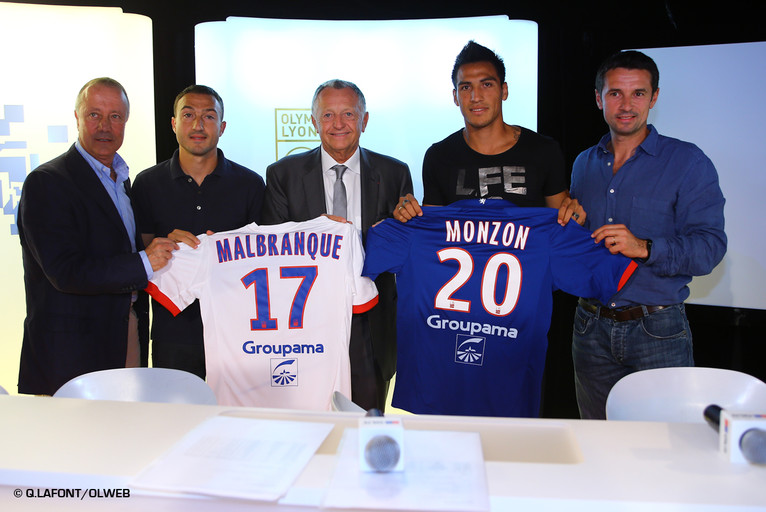 On Monday afternoon, Olympique Lyonnais' two new signings Steed Malbranque and Fabian Monzon were presented to the press in the presence of Jean-Michel Aulas, Rémi Garde et Bernard Lacombe.

JEAN-MICHEL AULAS
OL president Jean-Michel Aulas was delighted to present Steed Malbranque and Fabian Monzon. "Steed joins us after several seasons in England; he's signed for one season. And Fabian joins us from Nice for four seasons and three-million Euros transfer fee with an eventual bonus. I would also like to say that everything has been going well these last few weeks. OL made a good start to the season winning our 17th trophy of the modern era and then making a good start to the Ligue 1 season. These two players are to replace the departures of Aly Cissokho and Jérémy Pied. I am delighted to sign these two players. We said we were targeting three new players: a central defender, a midfielder and a left-sided player to replace Aly but who can also play other positions. We have done that. Our aim is to do things well. We have let players go without weakening the squad. The transfer window is not closed yet. I admit that this is a difficult time for the coaches. Personally, I would prefer that the window closed when the championship starts. As for Hugo Lloris, he holds the keys to that move..."


REMI GARDE
I'm very happy to work with Steed again. He is a graduate of the club's academy. He has real values
"After signing Milan Bisevac, I'm very happy to welcome Steed and Fabian. Fabian is a player I've been following for some time. At Lyon he will find the conditions to keep progressing and he has a huge potential as he showed last season. Fabian is a typical South American full-back who loves getting involved in the play. He is a good counterattacker, but also a good defender. He can play as a defender but also higher up on the wing. That could be a solution, especially away from home. Steed, I'm very happy to work with him again. He is a graduate of the club's academy. He has real values, illustrated by the attitude he has shown over the last few weeks. He can play in several systems, several positions, just in front of the defence, wide in midfield... His experience will be a big plus. He is ready to play. He will keep getting stronger. Before signing him, I wanted to take the time to see how he was physically, mentally. He convinced me. There is no risk with him being out of action for the last ten months. I'm very happy to have these new faces. The squad needed them."

STEED MALBRANQUE
"I'm returning home and I'm very happy to be here. OL is my club. It's great to be coming back. The challenge of getting back into top flight action after ten months off also pleases me. I want to show that it's possible when you have the desire. I hope everything goes well and we enjoy a good season. I'm not worried. I can't wait to get back to the Stade de Gerland and bring something to the team."
I don't have any position in particular. I can play several positions.
On his preferred position, Steed is very clear: "I don't have any position in particular. I can play several positions. I think that's a positive. The coach will decide." The quality of Ligue 1? I have always followed the championship since I left, but I haven't played in it yet so I can't really say if it's different to English football." My first game? "Everything went well with the reserves, I felt good. It was a bit tougher when I played against Porto. I think it will keep getting better with each game I play." Why did you stop playing when you had offers on the table from certain clubs? "I never said I was retiring, I just left Saint-Etienne. I had offers from other clubs but they didn't appeal to me. I took a break, while still doing a lot of sport. I missed football. I could have signed for Caen this summer."
He is very skilful, has a good shot and is very quick
BERNARD LACOMBE
"Rémi got what he asked for. Steed will add his skill and speed. To see him at training gives me the impression he never left. I gave him his start with the professional squad. Fabian will bring all his quality as a left-sided player. He is very skilful, has a good shot and is very quick."
FABIAN MONZON
"Yes, I think my match with Nice on the final day of last season must have made an impression. I'm over the moon to be signing for OL where everyone has welcomed me well. No, I didn't speak with Lisandro before signing. It's good to have a compatriot in the squad. He's a good person and an excellent player. First I need to get to know my teammates. I want to help the team." Does he hope to catch the eye of the national team coach by signing for OL? "Yes, that's what I want." As for taking the penalties like he did at Nice? "The coach will decide that..."