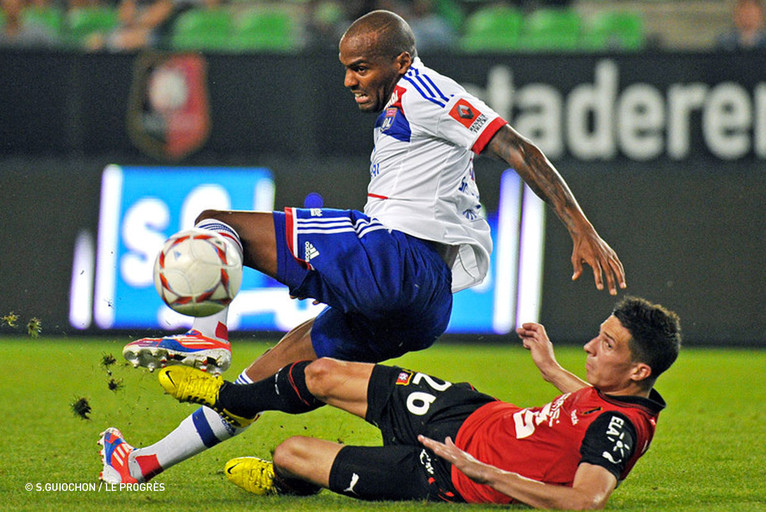 After triumphing in the Trophée des Champions, and leading the Ligue 1 standings after two games, Olympique Lyonnais has enjoyed an excellent start to the season.
But above and beyond the excellent statistics, Rémi Garde knows there is still work to be done. While this weekend's match against Evian will not see OL getting carried away with its success, it does offer the side the chance to keep growing stronger... And why not stay atop the standings.
While Les Lyonnais freely admit that sitting top of the tree after two games is purely anecdotic, that's no reason to abdicate. "The aim is to stay top for as long as possible," declared Rémi Garde in Wednesday's press conference. On paper, at least, it looks a reasonable ambition on the eve of week 3. While Lisandro and Co. head to Annecy to tackle ETG on Friday,  the three other co-leader are all facing tricky away games (Rennes-Bastia, Montpellier-OM, PSG-Bordeaux). OL could get some favourable results by recording a third consecutive league win, a fantastic start to the campaign that they haven't achieved since the 1981/82 campaign (4 wins to start the term).
But to do that, Rémi Garde will be without Yoann Gourcuff. Victim of a badly twisted right knee and a strained medial ligament, the Breton is sidelined for at least six weeks. Clément Grenier is ill and also won't travel. A new playmaker probably won't be the only change for the OL tactician. Milan Bisevac, who made his OL debut in the last five minutes against ESTAC should start. Dejan Lovren is also ready to go after injury and is available should he get the nod.
Evian are also missing certain elements. The 'Lyonnais', Sidney Govou (11 seasons with Lyon), has recovered from a ruptured Achilles tendon but, according to coach Pablo Correa, is not yet match fit. Up front, Saber Khlifa, who has scored three-quarters of Evian's goals this season (3 of 4, pre-season friendlies and Ligue 1 combined) is missing for personal reasons. They are absences that will be felt in a side low on confidence. Since losing to OL last May (1-3, Week 34 if Ligue 1), ETG haven't won in 11 matches (5 L1 matches, 6 friendlies). Evian, who have zero points from their opening two games are hoping to derby against Lyon will help turn their season around. OL remain undefeated against Evian in Ligue 1 (2 wins last season).