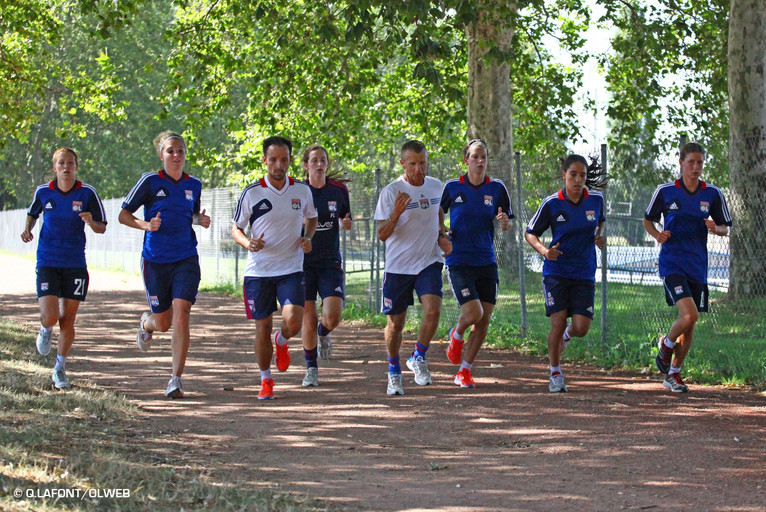 The youth academy... the girls... Lovren... Gomis... they were all training at OL's Tola Vologe complex on Tuesday 31 July...
The reserves outfield players, who play in CFA, Div.4 championship, under coaches Stéphane Roche and Gilles Rousset worked on fitness and tactics while the goalkeepers worked separately.
Earlier, Dejan Lovren had been running. The Croatian defender is still working his way back to full fitness after his ankle injury.
There was no scheduled training for Rémi Garde's squad, but Bafétimbi Gomis was present and doing a fitness session at Tola Vologe with Robert Duverne's assistant Guillaume Vachaud.
At the same time, at the Parc de Parilly, Patrice Lair's Women's team was hard at work under the orders of the coach and fitness trainer Antonin Da Fonsaca. "We worked hard for 40 minutes at a very good rhythm. We worked on our fitness in the morning and on our technique in the afternoon," Judging by the red faces and panting, it's not holiday this summer, despite the absence of several players at the London Olympics. But how is going for Amadine Henry? "Yes, it's been very hard in this heat. Footballers prefer running after a ball... But we have to do it to be ready for when the internationals come back. We are expecting to suffer and that's normal. The new players? We know them all. They are good girls. They have settled right in."
Laëtitia Tonazzi is one of the new recruits: "Everything is going really well. I couldn't be happier. For the moment, it's a pretty small squad, but the atmosphere is really good. It's in my nature to settle quickly and find my feet. Is it hard? We're here to work hard! We've done 40 tough minutes today. I gave everything I had! The Olympics? I'm watching them. It was a shame to lose against the USA, but I have faith in the players."
After 40 minutes running, the girls had a long stretching session. They have a second trianing session in the evening to work on skills and tactics with the ball.