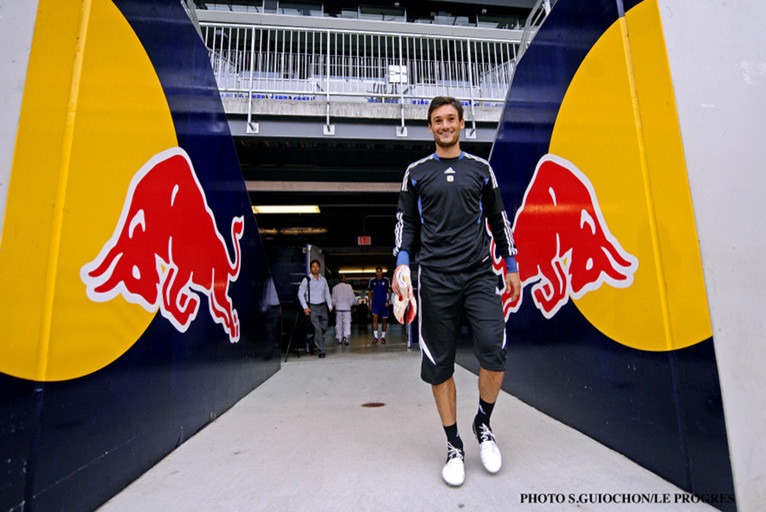 The Olympique Lyonnais players stepped out for training in the Red Bull Arena where Saturday's Trophée des Champions against Montpellier will take place...
10:00am Thursday morning. When the players headed out onto the Red Bull Arena pitch, they were met with heavy rain that battered the city of New York. For the first time since arriving in the USA, Rémi Garde's squad, (minus Lisandro Lopez who was having tests on his injured calf muscle), got to see first hand the stadium that will be hosting the Trophée des Champions.
Les Olympiens enjoyed nearly a full hour of training, just 48 hours before the first official match of the French 2012-13 season between the defending Ligue 1 champions and the 2012 Coupe de France winners. OL worked on their drills (warm-up, possession, passing and shooting) before making way for Montpellier. Rémy Vercoutre: "It went well. Now we're really into the preparation for the Trophée des Champions. Our approach is now geared towards the competition."
One hour and over to MHSC. In the USA since last Saturday, René Girard's side spent a few minutes with the OL players, including Anthony Mounier, the ex-OL player who has just signed for Montpellier. It was a nice image just two days before the Trophée des Champions. "That doesn't mean he's going to be doing us any favours on Saturday! I know for a fact, for having played there, that they will give it everything and make life as difficult as possible for us," admitted Rémy Vercoutre.

This afternoon, the Lyon squad will head to visit the "Big Apple" before another training session on Friday morning.