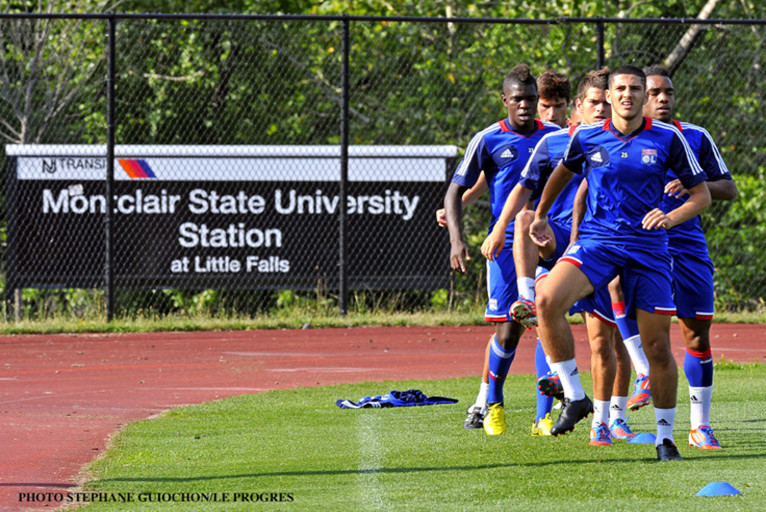 After enjoying the morning off, Les Lyonnais took part in their first training session in North America on Sunday afternoon, before they head to Montreal on Monday for their friendly against the Impact...
At 16:30 on Sunday, the OL bus arrived at the Montclair Campus, for a 90-minute training, very similar to their recent sessions and in very hot conditions. "It was an excellent training session to get everyone back in the swing of things as well as to keep building on what we've been doing since the start of pre-season," claimed Gérald Baticle.

Ball possession, scoring drills, small-sided matches; training to an excellent rhythm. It was an good first outing in the USA. "There's a bit of fatigue there. We played on Friday and have travelled a lot since then. It's also very hot. But we've just got to get on with it..."
On Monday, Les Lyonnais jet off to Montreal. Once their, Rémi Garde's men will train at 18:00 in the Saputo Stadium, in the heart of the Olympique Park before Tuesday's  game against the Montreal Impact, currently 7th in the Major League Soccer standings.

For the players, such as Rémy Vercoutre, this game will be another step towards full fitness ahead of the Montpellier clash on Saturday, but also a first experience of North American football. "We really don't know very much about the MLS in France so this represents an excellent opportunity for us. We can measure ourselves against a different type of football and also prepare for the Trophée des Champions."

Kick-off on Tuesday will be at 19:30 (1:30am Wednesday morning in France).
On Wednesday morning, the team will warm down in Quebec, before heading back to New York in the early afternoon.