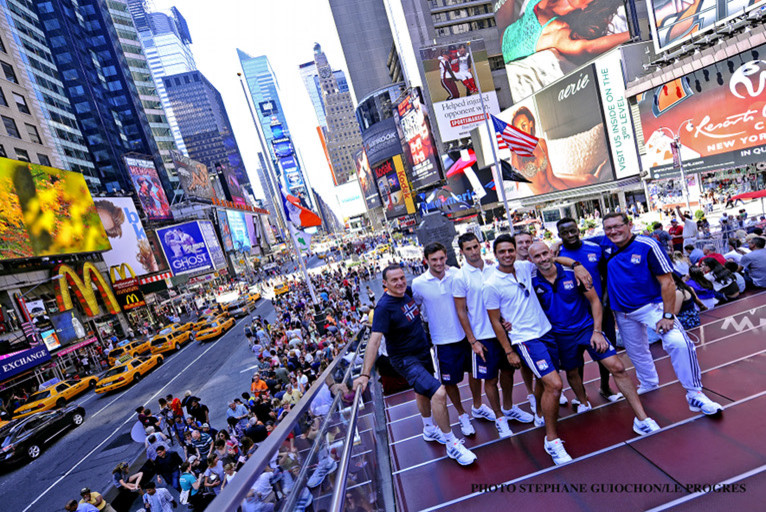 After a full day's travel on Saturday, the OL players enjoyed some free-time on Sunday morning and a few of them took full advantage to explore New York City...
10:00 Sunday morning. New York City has been up for a while already. In fact, the Big Apple has been called 'The City that never sleeps'. This Sunday certainly looks like any other day of the week. The locals and the tourists are mixed into one on the streets. The shops are all open and the stream of yellow taxis is incessant. It's hard not to be impressed. This city has something for everyone!
"It's the first time I've been here and I'm really impressed," said Aly Cissokho. Accompanied by a few players and several members of the coaching staff, the Lyon defender was taking full advantage of his morning away from the office. "It's completely over the top!  We're all like little kids! It's great to be able to discover a new city while preparing for a game. It's the chance to see something different."
Maxime Gonalons, who spent his summer holidays here, knows a little more about the streets of NYC. He acts as something of a guide but is still in awe of Manhattan. In the heart of his vibrant quarter, the players grab a few photos on the red stairs of Times Square. Hugo Lloris gets noticed and the passers by don't hesitate to ask a few questions about soccer. There are also a few Chelsea shirts around town as the European champs take on PSG at Yankee Stadium this evening.
The players continue their walk towards the Rockfeller Center before returning to their hotel. They have to get ready for their first training session in New York, at 17:00, but the players are already reminiscing: "It was incredible! Massive!" declared Clément Grenier. "It's my first time here and it was completely different to what we see all year round in Europe."
It's already 13:00 in New York. Time certainly flies here. In the street, there are more and more people, more and more noise... and there's the heat. The mercury has easily climbed past 30 degrees Celsius. It's not really surprising to see a few street sellers going topless on Fifth Avenue... Welcome to New York!