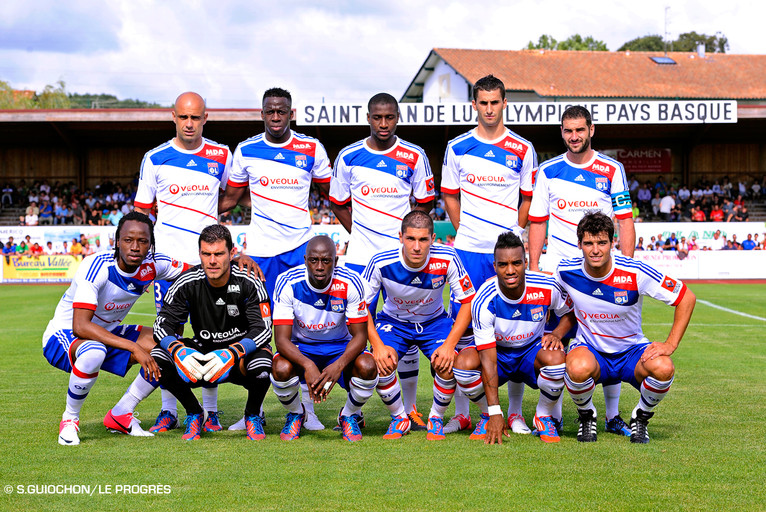 OL came from a goal down to record a deserved 1-1 draw with Spanish side Real Sociedad. After a dominant first-half display, the number of second-half substitutes saw the Spaniards get back into the game...
At St-Jean-de-Luz, Stade du Pavillon Bleu;  approx. 3,000 spectators; Real Sociedad 1-1 OL; Referee Mr. Thual.
OL: Vercoutre – Dabo (Ferri), B. Koné (Fofana cap), Cris (Umtiti) , Cissokho  (Zeffane) – Gonalons (Reale), Fofana  (Grenier) – Pied (Briand), Gourcuff (Benzia), Lacazette (Ghezzal) – Lisandro (cap) (Gomis). Coach: Garde.
Real Sociedad: Zubikarai – Estrada, Ansotegi (Cadamuro), Gonzales, De La Bella (Ros), Elustrendo (Bergara), Griezmann (Zurutuza), Illaramendi (Ifrane), Castro (Pardo), Prieto (cap), Agirrexte. Coach: Montanier.
Goals:  OL: Briand (77'); Real Sociedad: Griezmann (61')
After tackling Athletic Bilbao in Grenoble last weekend, Real Sociedad, 12th in last season's La Liga, provided a second Basque opponent for OL in the South-West French town of St-Jean-de-Luz. "I have different expectations of this clash," declared OL coach Rémi Garde in his pre-match press conference... In other words, heightened expectations.
OL continued with their 4-2-3-1 formation with both Lacazette and Cris, who missed the Grenoble outing. The squad was again without the internationals that took part in Euro 2012, as well as Bastos (left out) and Lovren (injured). In fact Cris and Lacazette were the only two changes from the side that started against Athletic Bilbao as replaced Reale and Yattara.
Lisandro hit the post from the outset after OL won back possession high up the pitch (4') and the seven-times French champion monopolised possession in the early stages with excellent passing and movement. A fantastic move in the 11th minute almost brought the opener when Pied and Lisandro combined to set up Gourcuff, whose shot from just outside the area flew just wide. In the Basque ranks, France youth international Griezmann was showing off all his technique and vision. The Liga side forced Vercoutre into a great save to deny a header from a free-kick (18'). Sociedad had trained that morning, but they weren't showing any fatigue. Gourcuff flashed another long-range drive just wide of the mark (22') before Pied won back possession and saw his effort miss the target.
Gourcuff was seeing a lot of the ball and taking charge of all the free-kick set pieces. OL went within a whisker of opening the scoring from a Pied corner that saw first Gonalons, and then Lacazette shoot at goal (30'). But the goal wouldn't come... despite a last chance in the first half as a Lyon cross flew across the face of goal. It was an suitable end to an entertaining, but goalless first half.
Against Grenoble, Rémi Garde changed his nearly his whole team at half-time with only Fofana and Vercoutre keeping their place on the pitch. This time, he again made a host of changes at the break. An Illaramendi free-kick forced Vercoutre into another good save (50').   It was tougher for OL to dictate proceedings in the second half... There was less understanding... more young players introduced... Vercoutre made another spectacular save to deny Griezmann (60'), before the young Frenchman scored from close range from a Casto cross (61'). The Spaniards were on top and another header from a corner flew just wide (65'). Philippe Montanier made changes... three before the 70th minute. Finally Lyon managed to string together a few passes like they had done in the first half. A nice move with Gomis and Briand saw Benzia slide in and hit the post (70')!
OL finally equalised with a ball over the top from Grenier... Gomis was denied by the 'keeper (who handled outside his area!), but Briand followed up to score anyway (77'). Les Lyonnais were back in the game, however it was Real Sociedad who had the last beg chance of the match in the 84th minute, but they couldn't make it stick.
Between the experience of the first half and the youthfulness of the second, OL showed two very different faces, as well as an excellent reaction after falling behind. Once again, it was another good look at the squad for Rémi Garde...