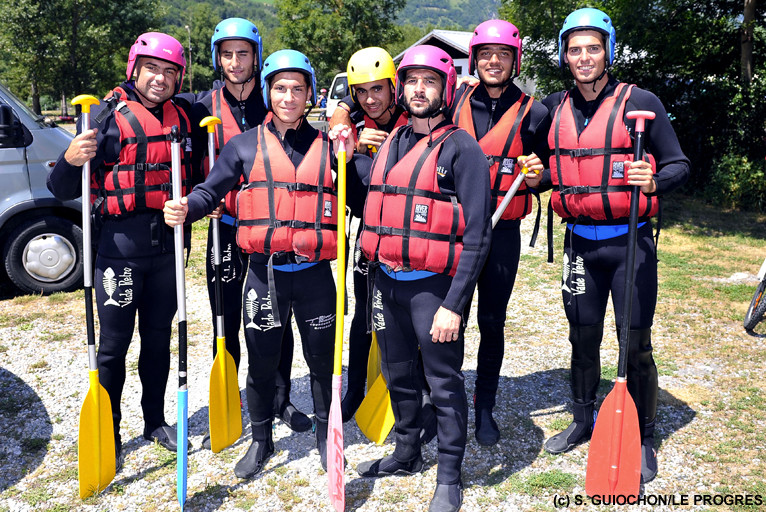 After lunch in Bourg-Saint-Maurice, Les Lyonnais transformed themselves from footballers into amphibians for the afternoon!
With the ride up the Iseran summit barely behind them, Les Olympiens where in for a change. Out went the bike shorts, and in came the wet-suits, helmets and life-jackets for a bit white-water rafting. 5 big boats, each with a guide, were ready for the descent through the rapids known as the Sheep, Cutting board, Dessert and the Kitchen...
Following the five rafts from the cycle track along the edge of the water, the sounds of laughter, shouting and... singing from the African boat that led the way with Gomis, Dabo, Cissokho, the two Konés and Yattara. The Boat of Joy arrived before the rest. The freezing summit of Iseran was just a distant memory... It was 27 degrees Celsius and perfect conditions according to the guides. It was a work out, but also good fun for the whole squad, with everyone pulling in the same direction... just like on the pitch...
After numerous splashes and the enforced dunking of Génésio and Perret, Les Lyonnais climbed out of the water, got changed and onto the waiting bus. The Africans, who won the rapids race and christened their boat 'The Recreation' were still all smiles. The squad had changed nearly 5,000 metres in altitude in one day... It was another gruelling day and they will sleep well tonight!
Tomorrow, it's back to the football. Bastos and Gorgelin were already back in Tignes working with the physio Sylvain Rousseau. Gorgelin had been one of the favourites for climb up Iseran, but claimed he got his tactics wrong on his way to a fourth placed finish...