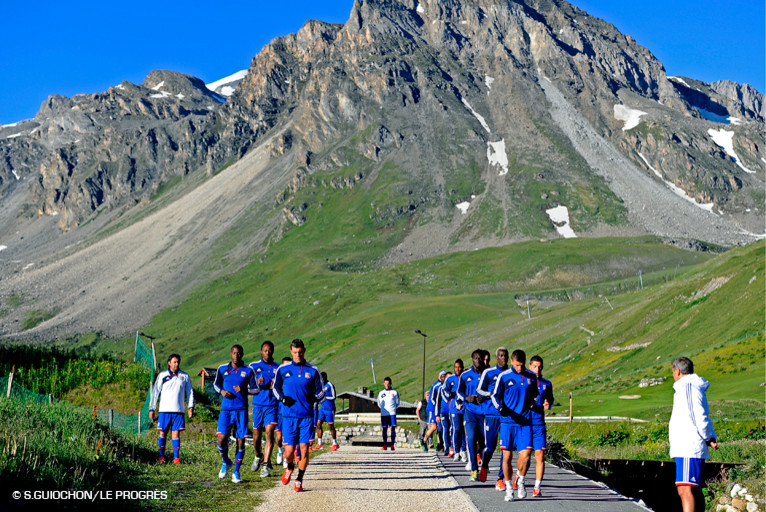 The Olympique Lyonnais squad enjoyed a variety of exercises over the weekend in Tignes...
It was a muscular wake-up for the players on Saturday with three laps of the lake on the bike...  After breakfast it was a series of exercises around the lake with another lap, split into three sections with time limits individually set to each player. Medhi Zeffane starred, while Reale, Ghezzal and Gourcuff all showed their qualities.
After lunch and a siesta, the players were back on the pitch at 17:00. Possession drills for the outfield players, while the three goalkeepers (Vercoutre, Lopes, Gorgelin) worked with a specific session concocted by Jo Bats. Rémy and Anthony then ended the session under a barrage of shots from their teammates with a shooting drill organised by Gérald Baticle. It was a huge session, watched by a number of spectators at the Stade Eric Cantona.

A good night's sleep was a chance for the bodies to recover. Sunday morning brought the now traditional Run and Bike around the lake at 8:30. 13 duos competing over four and half laps of relays and races on foot and wheels. It was a fierce battle for the top three. The youngsters Maxime Blanc and Anthony Lopes finished ahead of Enzo Reale and Jordan Ferri, and Medhi Zeffane and Lisandro. It was a real ordeal, added to by the overnight rain which resulted in mud along the course. The player's mental and physical strength were given a real workout.
Then it was back to the hotel for some work at the gym and muscular reinforcement...