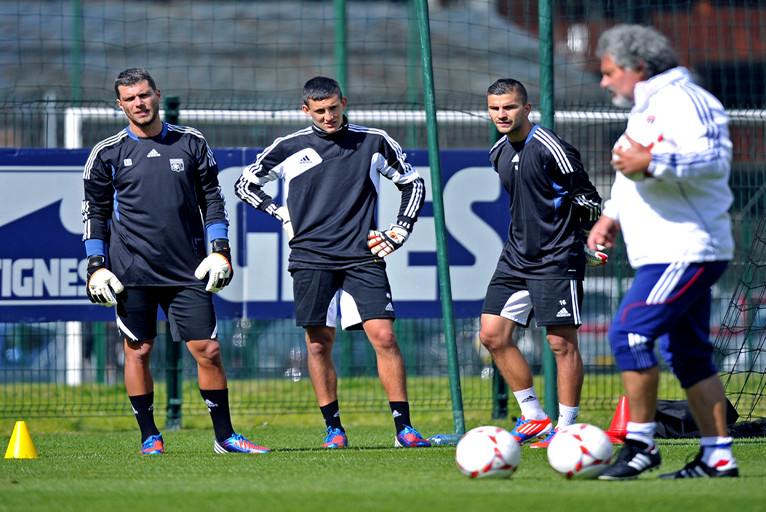 During the afternoon session, the three OL goalkeepers got a massive workout in front of a number of holiday makers enjoying the show...
While the outfield players enjoyed another long training session of possession drills, Rémy Vercoutre, Mathieu Gorgelin and Anthony Lopes were kept busy by goalkeeping coach Jo Bats. Their work may have been different to their teammates, but they were working just as hard as their mates...
Burning muscles, heavy breathing... dive, get up, on the ground, in the air... They covered it all trying to stop the ball pinging off the surgically precise left foot of Master Jo who put his charges through a series of match day scenarios. Power, tonic, suppleness, technique... Quality work despite the fatigue. "Fantastic given what you did this morning. It just shows you that you may be exhausted, but you can do great things," declared Bats. Jo advises, encourages, corrects... "your hand's not open... that's why you conceded the goal..."
The three custodians look like cats... lions, tigers, panthers... But there are limits... the 'keepers were 'cooked'. "We're out of breath, the chests are burning... Jo has started this season very strong, certainly tougher than previous seasons... I don't know what he did during his holidays..." Quotes from the warriors... but they're loving it! And what a joy it was to watch!
To end the session, Gérald Baticle organised a shooting drill that prompted Jo Bats to declare: "We're going to show them! There'll be no taking the mickey today!" Gérald wanted quality from his strikers: "Get it on target to start with, hit it with your instep..." Some quality strikes, some less so... The long training session ended with some much-needed stretching before heading back to the hotel...
Sunday, Run and Bike in the morning and the afternoon off.