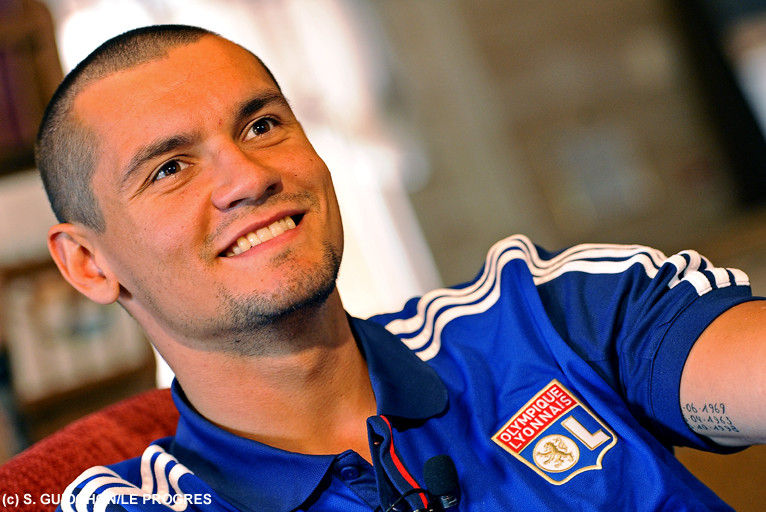 Dejan talks about his holidays and a couple of minor changes in his life... and confirms that he's loving life at OL...
With his freshly shaven head, the Croatian is a new man at the start of this new season. "I lost a bet with my 13-year-old brother. He beat me at table tennis, and I'm good... incredible... But my hair will grow back." After the change of coiffure, there came a change in his personal life: "I got married on the first of July. It was great, a really cute marriage, simple. It was important for me because the baby is on its way."
Married... dad-to-be, the defender turned 23 on Thursday, 5 July. "It's all going really quick. Can you believe it? I was 20 when I signed for OL."
Seriously injured in the final of the Coupe de France, Dejan missed out on Euro 2012 with Croatia. "It was really hard to watch on the television. I certainly would have preferred to be playing, but that's life. The team did really well at the Euros. We were in a tough group with Spain and Italy. Spain are the best team in the history of football."
So with the summer off, how has the injury evolved? "It's going much better, even though I can still feel a bit of pain. I'm working very hard to be ready. For the moment, I still can't run, but I'm hoping that will change in the next four or five days. The last six months of last season, I was injured and it was really tough. What's more it was a really strange injury, not a footballer's injury at all!"
During this marcato period, the rumour mill works overtime and Dejan's name has been linked with FC Barcelona. "I'm very happy at OL. I think I'll probably stay. I want to stay, but a lot depends on what the club wants. Anything can happen in football. Barcelona? Just words... nothing concrete. But obviously it's nice to be associated with a club like that. I still want to do more than I've already shown here. I can still do a lot better. I want to win trophies. One trophy with OL just isn't enough."
Dejan admits he gets on well will the entire OL squad, and recently spoke to his old teammate Miralem Pjanic on the phone: "I was pretty disappointed when he left, but it forced me to work harder to improve my French."
Before he can start running again and get back to kicking a ball, Dejan is working hard on the bike, which brings back one 'special' memory: "I'll never forget what happened in Corsica last January when I got lost on the bike and did an extra 30kms more than everybody else. Now I always take my mobile phone... We'll see how I go for the ascent up the Col d'Iseran, next Tuesday..."