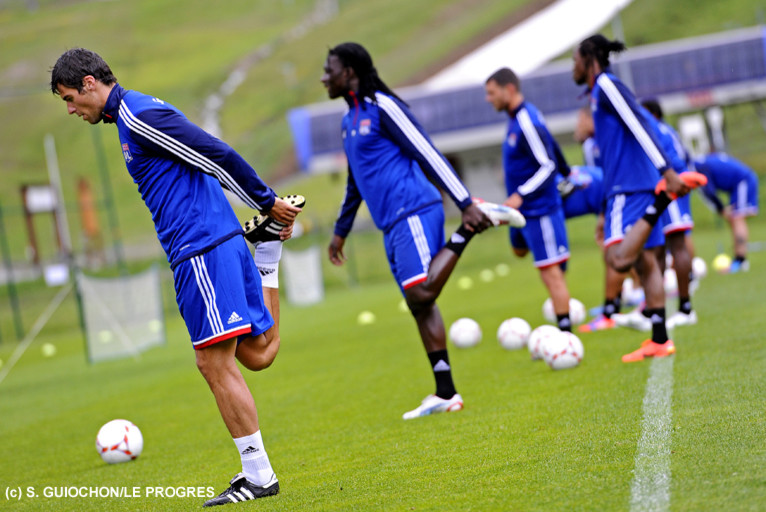 At 16:00, the Olympique Lyonnais players stepped out onto the pitch at the Stade Eric Cantona for a diverse and demanding training session...
Dejan Lovren did not accompany the rest of the squad at training. He has a specially concocted training regime after injuring his ankle in the Coupe de France final and was restricted to bike riding with Sylvain Rousseau and Guillaume Vachaud. Barely out of the garage, he was already holding his hand: "A good way to start... I've pinched my finger!" Just as the players emerged onto the playing surface, the heavy rain began to fall. Thunder and lightning were present and the weather barely cleared until the end of the session.
Warm-up with Robert Duverne, was followed by some ball work: "Technically, you should be taking it easy..." advised Bruno Génésio; and half an hour of foot tennis in teams of four.
At 17:00, it was back to the hotel. The Stade de Reims team walked in after a three hour walk in the afternoon: "This is the start of a great new adventure..." "There is huge support behind the team..."said Antoine Devaux and Mohamed Fofana.
The start of the camp is also the chance to chat about the holidays... Briand revealed he was in Miami for the third final of the NBA play-offs between the Heat and the Thunder: "An incredible atmosphere..." New York was the destination for Gonalons who loved the Big Apple... "5 weeks... too cool..." for Cris.
At 18:15, the team caught the funicular to head up the glacier for what promises to be a stormy night in a refuge before a biathlon first thing on Thursday morning...