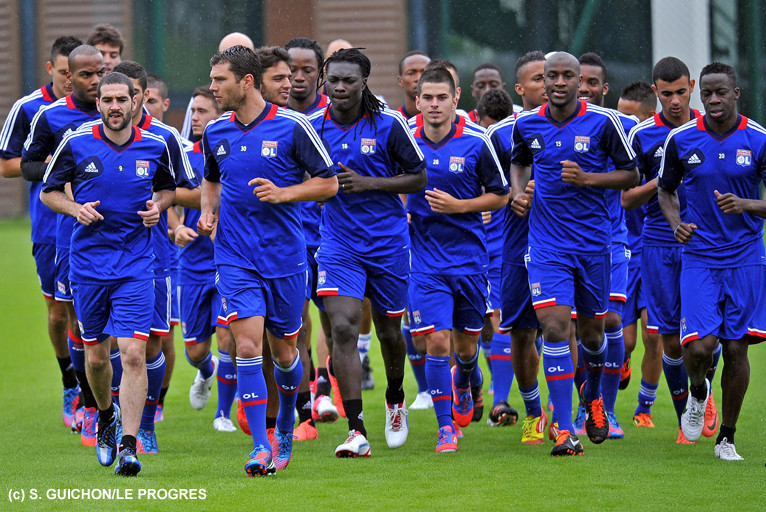 Olympique Lyonnais began its preseason training on Monday 2 July… 25 players were present at the Tola Vologe training complex for the launch of the new campaign...
The rain was the uninvited guest on Monday and hung around for the first hour of training. The players hit the training pitch at around 10:15. This first session of the season was a series of repeated drills; running, ball work, fitness...
25 players were present along with Rémi Garde and his coaching staff. Michel Bastos and Dejan Lovren were missing. "They have been given leave. Michel arrives on Monday afternoon and Lovren got married on the weekend and will be here on Tuesday," explained Rémi Garde during his press conference. The OL coach also announced that John Mesah's contract was cancelled on 30 June. He also revealed a new coach in the form of Guillaume Vachaud who will work alongside Robert Duverne, specialising in the individual fitness programmes.
There were no new signings in the 25 at training, but plenty of players back from loans, such as Gorgelin, Novillo, Yattara and Reale. Cris, who just got back from Brazil on Sunday cut his session short after a bout of vertigo: Nothing serious according to Rémi Garde.
Training was held behind closed doors on Monday. Tuesday's two training sessions are open to the public. Les Lyonnais head to Tignes for their training camp on Wednesday after a series of medical tests.
Monday's squad: Vercoutre, Lopes, Gorgelin, Zeffane, Dabo, Cris, B. Koné, Cissokho, Blanc, Reale, Gonalons, Grenier, Gourcuff, Fofana, S. Koné, Ferri, Fekir, Lacazette, Briand, Gomis, Pied, Lopez, Benzia, Yattara, Ghezzal.
Check out the new "Training Away adidas" at the official shop.