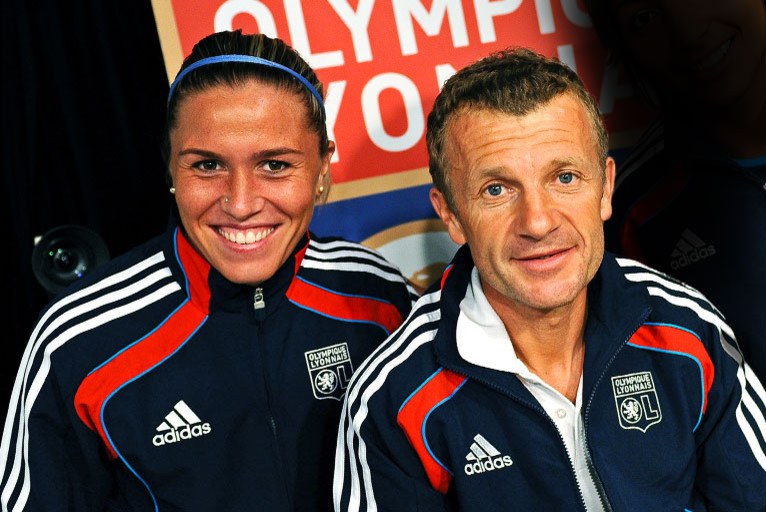 After winning the Coupe de France and then the UEFA Women's Champions League, OL can complete an historic treble on Saturday if they avoid defeat away to second-placed Juvisy in the final match of the first division season...
How are you approaching this 'grandfinal' against Juvisy?
Patrice Lair: "We have already achieved two incredible things this season; winning the Coupe de France and the Champions League. Now we need to win this sixth French first division title. This is a unique opportunity in the career of a player of a coach, to do the treble. We absolutely have to seize it!"

Camille Abily: "There's a little bit of pressure on us, but we're used to these types of situations. We've got the experience - we've been playing together for two seasons, playing finals together. For the moment we've been winning them so that's fine! The treble would make history - it will be incredible. That was the aim at the start of the season: to do better than the last year's double. The league is massively important. It rewards consistency over the whole season. We really want to take this trophy back home again."




What type of match are you expecting on Saturday?
Patrice Lair: "They will be very aggressive with the home crowd right behind them. We will have to work hard defensively to win back possession and then look to the speed and quality of our forwards. Juvisy have to attack because only a victory can offer them the title. We will play to our strengths and we'll be looking for a win ourselves."

Camille Abily: "We are technically better than them so I think they will try and make the game a real physical battle. But we need to stand up to the challenge and play our football. We like to score goals and win, even though a draw would be enough. That will be good to know if it's still 0-0 with ten minutes to go."