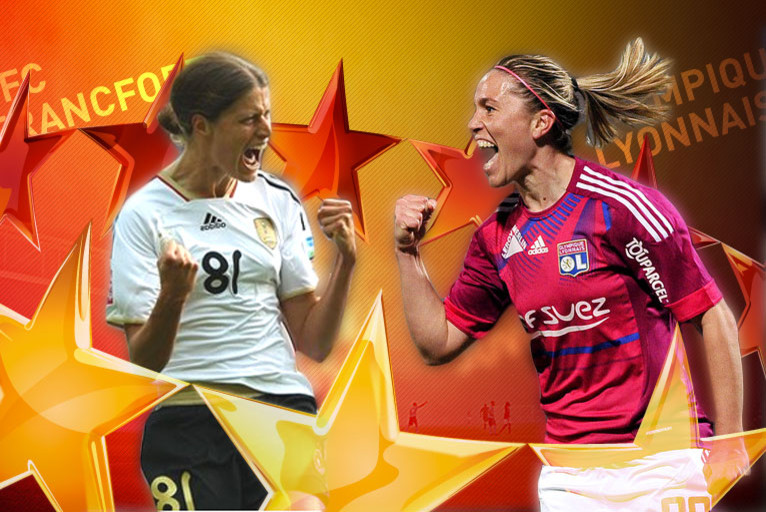 OL defend their continental crown against Frankfurt in the UEFA Champions League final at Munich's famous Olympiastadion at 18:00 CET.
The 11th UEFA Women's Champions League final pits the continents two most prestigious clubs in a battle for continental glory. Lyon and Frankfurt represent to pinnacle of women's football in Europe, whether it be in terms of silverware, player quality, football style or budget. On one side, FFC Frankfurt, the traditional giant of the German game and their three European Cup triumphs (2002, 2006, 2008), and on the other side, Olympique Lyonnais, the French champions and defending Champions League winners.

The two lock horns this evening at the footballing mecca that is Munich's Olympiastadion, host to the 1972 Olympics, the 1974 World Cup, Euro '88 and the first ever mens Champions League final, won by Marseille back in 1993. Simply playing the UCL final in Germany is an event in itself. Germany is arguably the European home of women's football, where the game flourishes, last year's World Cup was a roaring success and a record 40,000 spectators are expected at the Olympiastadion tonight.

The knowledgeable public won't be disappointed. In the German ranks, Frankfurt boast the defensive experience of Bartuziak, the power of Behringer and the intelligence of Garefrekes in midfield and the raw talent of Marozsàn in attack. However, Sven Kahlert's side will be without regular goalkeeper Angerer, defender Krieger as well as Kulig and the phenomenon Bajramaj in midfield...

This season, Frankfurt have lacked consistency with a less than flattering five defeats domestically, coupled with three reverses in the Champions League. The side is still searching for the right balance and their defence remains a weakness, but there is no denying their immense attacking potential. But OL have nothing to envy their opponents and enter the match with a favourite's tag resting comfortably on their shoulders. Patrice Lair's side have enjoyed a perfect season thus far and remain undefeated both domestically and in Europe. OL's football is flowing, seductive and dangerous and they feature stars of the women's game all over the park: from Bouhaddi in goal to Schelin in attack, passing by Renard, Bompastor, Henry, Cruz, Abily and Dickenmann...

This season in the Champions League Lyon have always opened the scoring and always netted that first goal inside the opening 22 minutes. An unbelievable statistic. Worryingly for Frankfurt, every time they have trailed in a game, they have lost. But the final is always different and often goes to the side that want it more... The stage is set: Enter the stars!