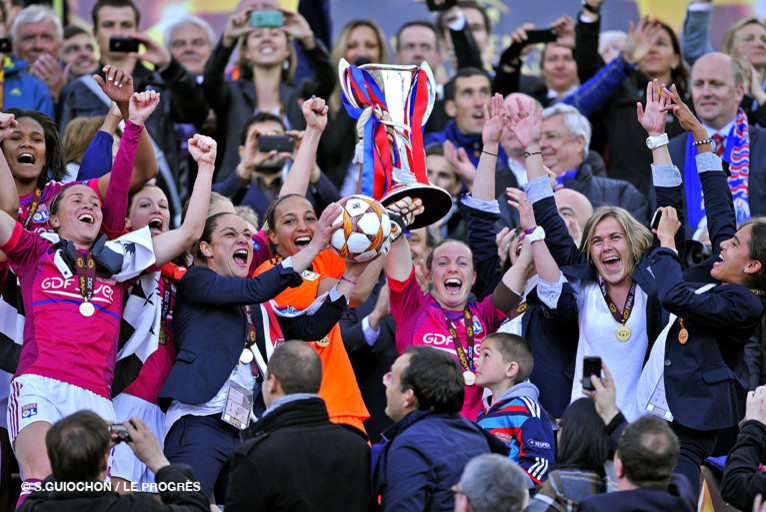 Olympique Lyonnais, led by coach Patrice Lair, won Europe's most prestigious club competition for the second year in a row with a dominant performance in Munich's Olympiastadion - defeating Frankfurt 2-0! Bravo!!
They've done it!! After lifting the Champions League trophy a first time, by defeating Potsdam at Craven Cottage a year ago, this incredible side that can play football with its eyes closed, filled with internationals, French and otherwise, are once again at the summit of the European game!

In front of more than 50,000 spectators at Munich's Olympiastadion, they played like true champions, even if it wasn't easy as the German giants from Frankfurt never gave up, even after trailing 2-0 after just 28 minutes. It will go down as a final to remember with that stunning goal from Camille Abily, with that, at times, frightening intensity, the chances at both ends, the breathtaking skill and OL's high pressing game...

It's impossible to pick out individual performances. The team's desire and unity are the overriding factors of this success. It's more a case of an incredibly talented side, led by a great coach in Patrice Lair. This OL play spectacular football, across the board; they can turn on the style, but aren't afraid to roll their sleeves up and get dirty. They are never overcome by their ambition to keep winning and the pressure that comes with it.


It was once again the case against Frankfurt. The dug deep and hung in their in the opening 15 minutes before wrestling control from their rivals and then controlling their every move. The sentinel Wendy Renard was exceptional in that role in defence, both in the air and on the ground… the Martinique star is playing with a maturity and presence that belies her youthfulness... Viguier, Renard's partner in the middle... Bouhaddi, in goal, was called upon three or four times to make decisive saves and her calm is constantly reassuring to her teammates... Cruz and Henry devoured the kilometres and won innumerable ball in the middle of the park… Schellin was tireless up front, taking six pots at goal and really deserved to get her name on the scoreboard with a stunning move and volley... Dickenmann replaced Necib to reinvigorate the left side of midfield… Impossible to overlook the performance of Le Sommer on the right and the ice cold finish from the penalty spot to open the scoring... Likewise Abily, and not just for her goal… And the full-backs Franco and Bompastor, that never stopped from go to woe. Rosana and Otaki both made their impact off the subs bench. Patrice Lair also needs to take a bow for his role in this triumph, taking a talented squad to the next level. The coach is always demanding more. He asks a lot from his players but he also gets a lot back because he knows how to give as well, all his energy... his ambition...

You are Europe's most beautiful: beautiful in terms of the football you play; beautiful in the way you carry yourselves, so refreshing. The smile is part of the daily routine. You have charmed us match after match, month after month, season after season. We follow you with OL, and with your respective national teams. It was another incredible victory!

But for this season to reach perfection, there is one more game and one more title to win: the French first division title. They haven't won it yet and they will have to dig even deeper to go all the way to the treble this season!
Check out the OL STORE and the online shop for all your OL Women's products!