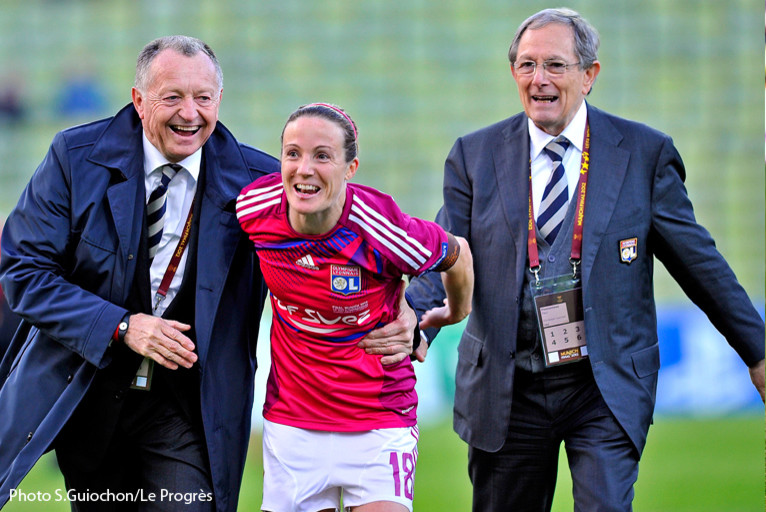 Check out who said what after Olympique Lyonnais were crowned European champions for the second successive season in front of a record 50,000-strong crowd in Munich's Olympiastadion:
Speaking to OLTV
Camille Abily
I saw the ball come back out so I decided to try my luck with the lob. I guess luck was on my side. That second goal did us the world of good. With the experience of last year, we were more in control of this game. We are going to enjoy this because it's not every day you win the Champions League.

Élodie Thomis
At the start I was a little stressed. We scored at the right time. We did what we had to do, against a German team in Munich. We've been working well for years at OL and we're very proud to have defended our title... Now we'll try and defend our first division crown too!
Amandine Henry
It's our second trophy of the season. Obviously we are all delighted. We haven't forgotten how hard we worked, and all the little details to reach this moment. We all know each other inside out and we're just getting better and better at controlling matches.
Lotta Schellin
We're over the moon! It's incredible! Now we have to do the treble by beating Paris-SG in our final game of the season to win the first division.
Louisa Nécib
We are really very happy. This was our number one aim for this season. It wasn't an easy start to the game, but we stuck together, dug deep and showed great solidarity. The opening goal gave us a real confidence boost. We showed that French football is top of the tree in Europe.
Wendie Renard
C'est magnifique! We knew that Frankfurt were a very difficult team to play against. But we put our foot on the ball and started to play our own game. The Champions League trophy is staying in Lyon. We played some great football as well as answering the physical challenge from the Germans. It's a really emotional moment because at times like this, you look back at all the sacrifices you made to reach this far, right from the start of the season. Now we have to win the French league this weekend!
Patrice Lair
To win in Germany against a German side, I'd say it's hard to do any better than we did this evening... Shirley Cruz was absolutely sensational. Le Sommer took that penalty in front of 50,000 spectators; that's strength! Camille Abily's goal was simply fabulous. It's a shame we couldn't score that third goal. The hardest thing was to defend our title because everyone was out to beat us. We did it! There's a French club on top of Europe this evening and who would have thought that just a few years ago?! Olympique Lyonnais prepresents French football. How can we not do the treble!? It's the understanding and the feeling between the players that makes such a great performance possible. OL is one big family and will stay in my heart forever. Today is magical! Tomorrow will be fabulous!

Eugénie Le Sommer
We're so happy to have won the trophy, in front of a packed stadium. We scored early on and that made everything easier. This was a deserved win, especially against an excellent German side.

Sabrina Viguier
What we have achieved is just enormous! I never even dared to dream that we would win back to back Champions League crowns! Tonight is a mixture of fatigue and joy. We will really let our hair down at the end of the season.
Sonia Bompastor
It's a fantastic in a mythical stadium. We are part of history! There was loads of pressure on us before kick off and you could see it by the way we started. I gave it my best and as a team, I think we did brilliantly.
Jean-Michel Aulas
It's an overwhelming sense of satisfaction. We have a quality coaching staff and the girls hold true to the values that see us stay at the top of our game. We have made our place amongst the elite of the game in Europe and we will defend that position. This evening was an immense performance. We won against German opposition in Germany, the leading country in women's football. Michel Platini told me to keep backing the women's game.
Paul Piémontaise
This is our third consecutive final. We have kept growing over the years. The number of spectators as well! We can still get better. At the final swhistle, I had an image of myself 25 years ago driving the girls around in the team bus. We have just proven that you can believe in ambition.
Speaking to French TV channel Direct 8
Jean-Michel Aulas
C'est magnifique! A final played in front of more than 50,000 spectators, is beautiful. Well done to Patrice Lair and his players! Women's football in France is standing on the top step this evening.

Patrice Lair
It's fabulous! What a feeling! Simply fantastic!

Sonia Bompastor
It was a great match of football. We were able to score early. It's extraordinary to have won in Munich, in this stadium, against an excellent Frankfurt team. I describe how happy I am. We are all together on this one, the whole squad.
Camille Abily
The goal I scored just came naturally. Before the ball hit the back of the net, I already had my arms raised! It was tough at the start as they really came out of the blocks with a lot of intensity. Tonight we took our chances.
Check out the OL STORE and the online shop for all your OL Women's products!