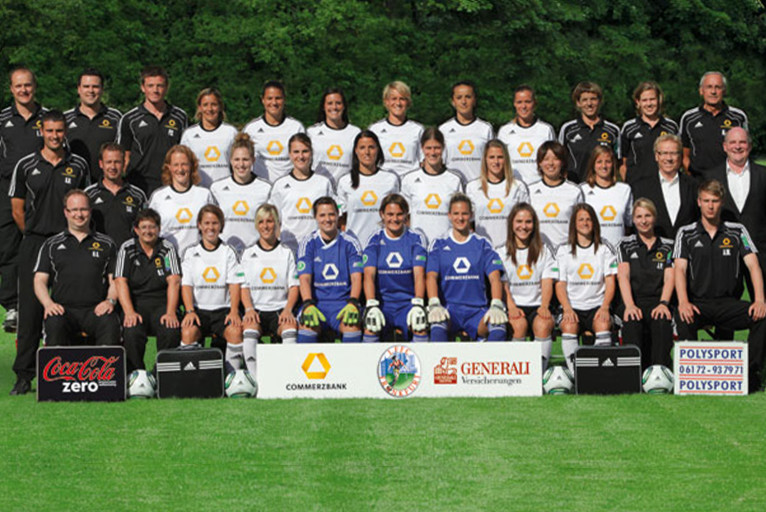 Find out all you need to know about Olympique Lyonnais' opponents in this year's Champions League final to be played at Munich's Olympic Stadium, this Thursday at 18:00 CET...
A TRADITIONAL GIANT
Frankfurt are the most successful club on the European stage with no less than three Champions League triumphs in 2002, 2006 and 2008. In 2002, the German outfit, led by Steffi Jones and Brigit Prinz won the first ever women's Champions League, defeating Umea in the final played on home soil. They then lost the next two finals against the Swedish side in 2003 and 2004. Frankfurt returned to the top of the pile with a win over compatriots Potsdam in the 2006 final and made it a hat-trick of wins with the 2008 crown, again at the expense of Umea - a year that also marked OL's debut participation in the competition.

Founded in 1998, Frankfurt have enjoyed massive domestic success with seven Frauen Bundesliga titles (1999, 2001, 2002, 2003, 2005, 2007, 2008) and eight German Cups (1999, 2000, 2001, 2002, 2003, 2007, 2008, 2011). Their squad has always featured a host of German internationals and at the 2011 World Cup, seven Frankfurt turned out for the Nationalmannschaft.

RENEWED AMBITION
After a barren run between 2008 and 2011, Frankfurt have returned to the top step of the continental game, thanks in large part to an aggressive recruitment policy. Last summer, the emblematic Brigit Prinz retired from the game, making way for the latest German phenomenon Fatmire Bajramaj, who OL have already played at Duisburg and Potsdam. German internationals Kim Kulig and Simone Laudehr also signed on, as did Swedish international pair Sara Thunebro and Jessica Landström, Japan's Saki Kumagai, Americans Alex Krieger and Gina Lewandowski and Switzerland's Ana Maria Crnogorcevic…

But all these stars can sometimes struggle to gel and coach Sven Kahlert is still searching for the right formula and balance. Frankfurt sit just fourth in the German championship with two game left to play and were beaten by Bayern Munich in last weekend's German Cup final. Frankfurt's season will be on the line in the Champions League final this Thursday...