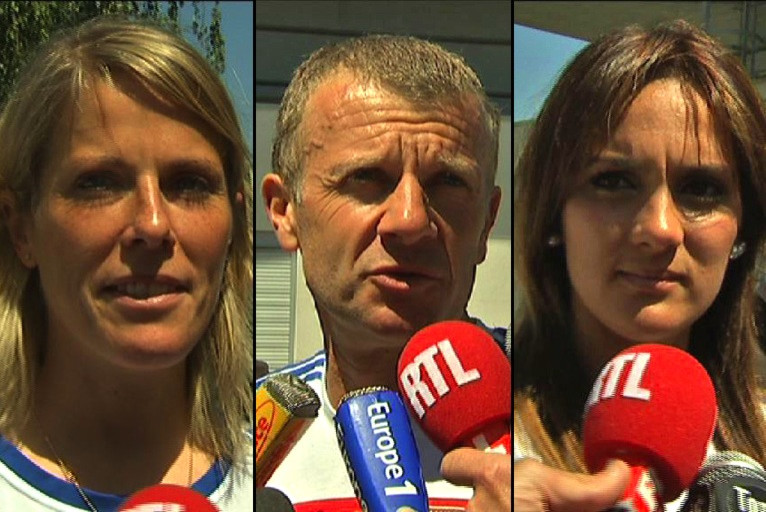 Olympique Lyonnais coach Patrice Lair and players Sabrina Viguier and Louisa Necib presented themselves in front of the media for a special press conference, just three days ahead of the UEFA Women's Champions League final against Frankfurt in Munich...
Patrice Lair:
"There was plenty of joy after the Coupe de France victory [2-1 over Montpellier on Sunday], but we have recovered well. Yesterday we moved into a hotel to focus and some players received treatment and while the rest trained lightly. We leaqve tomorrow for Munich with the aim of becoming the first ever French club, men or women, to win two European Cups! Frankfurt are not as physical as Potsdam, they like to play football. We have to put the same commitment and desire on the table as we did in last year's final and I think we can cause them some problems with our speed and movement."

Sabrina Viguier:
"We were really focused on the final of the Coupe de France. Leading 2-0 so early in that match, unconsciously we definitely took our foot off the accelerator to control the game. Now we can really focus exclusively on Thursday's Champions League final. Frankfurt have some very good players and they're a great team like Potsdam. We will really have to give it everything to win this final. They recently lost the German Cup final, but they're not generally the sort of people to let their heads drop."

Louisa Necib:
"We knew we had a big week ahead of us and that we had to win that first final to be in the best psychological condition to go into the next. We know how good German football is, but we also know we are good enough to compete with the best. The favourites' tag doesn't scare us. We have a title to defend and it doesn't worry me in the slightest going into a final as a future European champion."