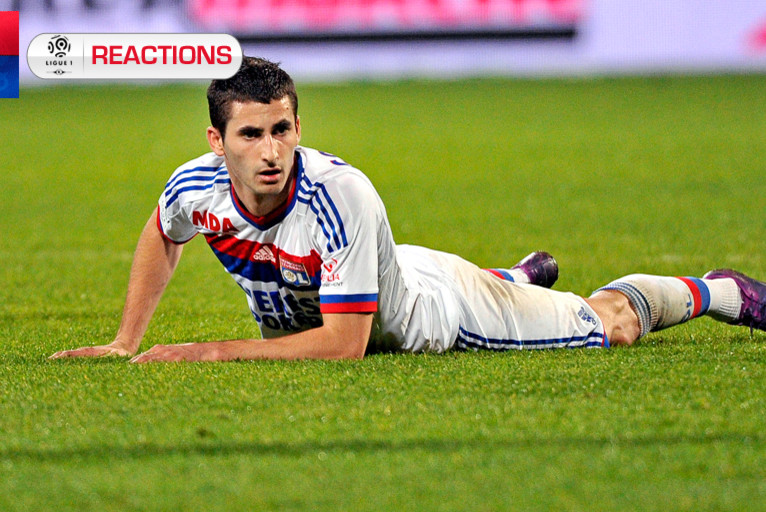 Check out who said what in the OLTV Bus after Saturday's Week 29 2-1 win over Sochaux...
Dejan Lovren
"We're very happy. That was my first ever league goal for Lyon. It's really hard to score goals in France and today I did it and we got the three points - it's amazing! We didn't play as well as we did against PSG, but we still won. We were really tired at the end, but now we have a full week off to recover before the Rennes game next weekend. In the second half we could really feel the tired legs and Sochaux played well as they went looking for goals.
"For my goal, it was a great ball in from Kim. It wasn't that easy as the ball came very fast, but it squeezed in. We were obliged to win if we want to reach third place and it was tough tonight because Sochaux needed the points too. We scored early and the second half was very tough, although we still created a lot of chances, but we were very tired. The Sochaux players were everywhere - they played well. You don't always play well, but you have to know how to win. We have often had trouble against the 'little' teams, even if we saw tonight that Sochaux are not just a 'little' team. We still have ten matches to play and we need to win them if we want to play Champions League football next season. We have a very good side and we haven't shown it enough on the pitch this season.
"The squad has evolved and we have to win all the small matches. I have a good understanding with Umtiti, who is still a bit young, but he played very well. Against Paris he was outstanding. Physically I feel good, I have a great desire to play. Things get better with each game, even though I'm still not 100 per cent. I give everything for the team and while I still feel a bit of pain, it's not that bad. When you have a goalkeeper like Hugo Lloris, it gives the whole defence confidence. I think he'll stay a long time at Lyon. In my opinion, he's the best goalkeeper. He still surprises me, like he did tonight with some of those saves."
Michel Bastos

"You could see it wasn't easy tonight, but the important thing was to get the three points. We were a bit tired and we struggled but we did what we had to do. After a huge ten days, not we have a week to recover. We told ourselves we needed to keep the run going and while we got the result we needed, we can't be happy with the way we played. We'll be feeling much fresher against Rennes so we'll be able to do more. Luckily tonight we still got the points."

Maxime Gonalons
"We continued our excellent run in the league with a third straight win. We were up against an very good Sochaux side and we had to dig deep mentally, because physically, we were running on empty. We're playing a lot of matches at the moment and winning was the only thing that mattered tonight. We need to keep it going for the rest of the season. Sochaux aren't having much luck at the moment. They're a very good team and it's a shame to see so much potential so far down the table. They showed tonight they are better than second-from-bottom."
Rémi Garde
"Tonight was a very important victory that keeps our league ambitions alive. We did it the hard way and it was tough going at times. Sochaux caused us some problems, but mentally, we were very strong. We spent a lot of energy in midweek against PSG and everyone was exhausted on Thursday. Playing so many matches is tough. I have had my problems with injuries and the like this season, but my squad has always bounced back. We're in a sprint finish and it would be a shame to give up now. I'm very happy with our new formation, but also the team spirit where the players are all working very hard for each other."