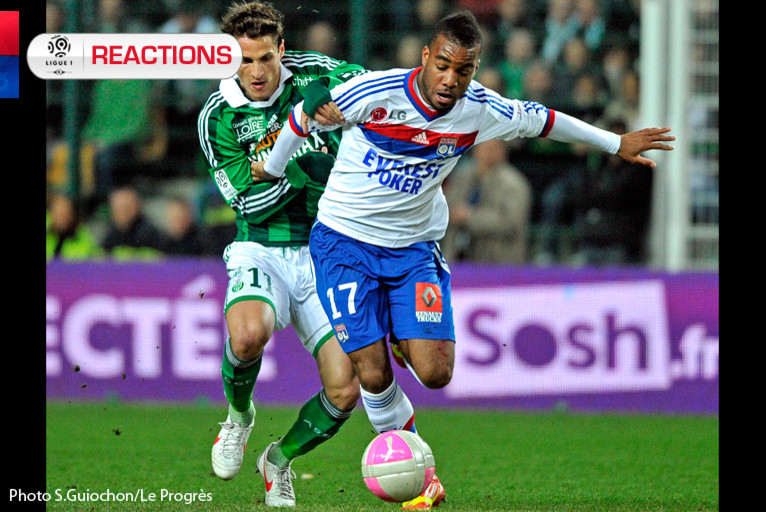 Check out who said what in the OLTV Bus after the 1-0 derby win over Saint-Etienne...
Bafétimbi Gomis
Every time I return to this stadium, something happens. I've always dreamed of playing in this match. I came on with all my determination and I scored. I don't feel like it was revenge for starting on the bench recently... Abidal was really great to me when I first joined the France squad and everyone knows what a good guy he is. I wanted to show my support for him and his family.
Rémi Garde
It was important to follow up after the Lille win, because above and beyond the derby, it was three points on offer. A lot of people picked us to lose this game. It's good to be in that position because the players' pride is questioned. We started well and we could have been leading earlier. The start of the second half was tougher before we started to put our foot on the ball again. 'Bafé' did us the world of good when he came on... It's true that I wasn't happy with the chances we missed but the side was solid tonight and it's a great story... We have to keep our feet on the ground... Tonight it was the bench that made the difference and that's very symbolic.
Alexandre Lacazette
By following the game plan, we knew we could get a win. We could have scored more but we stuck together. .. There was a lot written against us recently but we don't pay attention to that. I'm immensely proud because all my family and friends have been talking about this derby.
Anthony Réveillère
The three wins over Saint-Etienne are very important in a season. This match was also decisive in the race for third place. We were desperate to make a good start to the match, like we had done against Lille. We didn't concede a goal and kept looking for the winner which eventually paid off. We could see as the game went on that ASSE were tiring and we were feeling good. We're on a good run at the moment and perhaps to loss to APOEL Nicosia was a good thing in the end. We would have liked to have made the game safe before the end, but keeping a cleansheet is just as satisfying.
Jean-Michel Aulas
It's a massive satisfaction, a fantastic result. We saw a Lyon side prepared to stand up and be counted on the pitch. ASSE wanted to end our unbeaten run... On a tactical level, Rémi (Garde) showed his superiority by clearly winning the tactical battle... There are ten games to go, which is a lot and we know that a lot can still happen. Maybe the elimination from the Champions League will be a good thing in the end. I think we can still finish in the top three, but it's gong to take some more results like this... I'm over the moon, but I know there's still a long way to go.