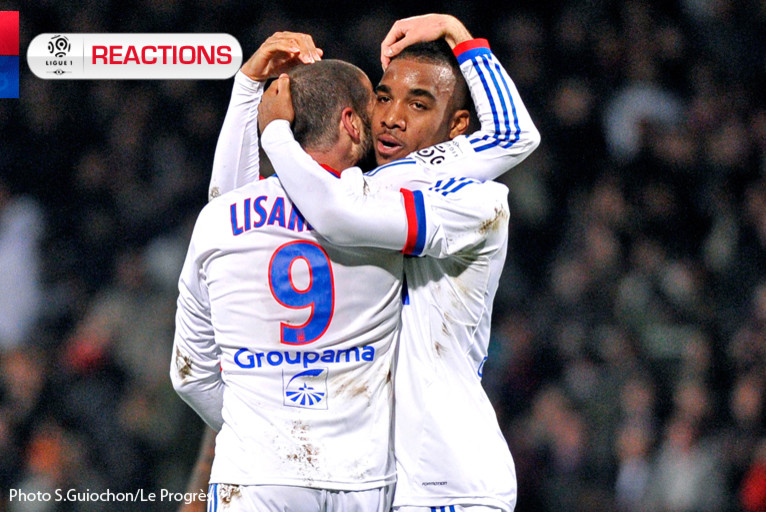 Check out all the reactions from the OLTV Bus to OL's stirring 2-1 win over Lille...
Dejan Lovren
I agree with the second yellow card, but not the first... I'm disappointed to have been sent off but I'm delighted with the result for the team. I need to keep working hard because I still feel I have more to offer. I'm not in the best form of my life and I'm very disappointed at being suspended for the next game. We won tonight, and that's the most important thing.
Jimmy Briand
We needed to rediscover our team spirit. We did that this evening and we need to continue like this. It wasn't all perfect tonight but we all took responsibility for the team and started well. We ended up winning the game with just ten men. Lets try and keep it going. We have a huge match against Saint-Etienne next weekend and we need to maintain this spirit.
Maxime Gonalons
I took a heavy knock in Nicosia and another knock tonight, but it's alright... We played well in the first half and we told ourselves we couldn't slip up again tonight... There was a lot of talk before the game and I think it helped. Lille are a very good side and it was a tough game to play but we dug deep and fought hard right to the very end... Now we have to prepare for the derby.
Mouhamadou Dabo
We really wanted to get a result for the supporters. It was a very important match for us and we had an obligation to bounce back at home. This win sees our confidence grow. It was a tough game to prepare for but tonight we showed that we're still alive.
Rudy Garcia (LOSC coach)
It's pretty clear for all to see that our first half was pathetic... After that, the referee denied us two clear penalties in the second half that would have won us the game... Lyon pressured us and beat us in the duels... Fortunately we got that goal just before half time that gave us reason to believe...
Alexandre Lacazette
It was important for us to open the scoring in the first half, even though we were disappointed to concede just before half time. We battled hard and emerged with the points. I played in my real position tonight. I really enjoyed myself. Our ambition of a top three finish remains intact...
Cris
I think we can be satisfied with the result. This week was very difficult after being eliminated from the Champions League. Everyone worked hard so bravo to the whole squad. Dejan is just coming back from injury and he really wanted to play... It's a shame he got that red card! Even reduced to ten men, we gave everything to win. We're still here and we have some tough games coming up, starting with the derby next weekend. We're going to roll up our sleeves and fight for everything - we don't have any choice.

Clement Grenier
This win is a real boost, especially against a very good Lille side. It bodes well for the remainder of the competition. We all knew what we had to do tonight. We worked hard for each other. It's very important for the coming weeks. We all gave it everything. We were looking for revenge for what happened in Nicosia. We were determined to win this evening.
Rémi Garde
It was a very good win this evening, based on an excellent first half. We didn't have as much petrol in the tank in the second half, but we made up for it with an irreproachable attitude out on the pitch. I was worried about this match because we had to have overcome a lot of criticism and a lot of fatigue as well... I'm very happy this evening.