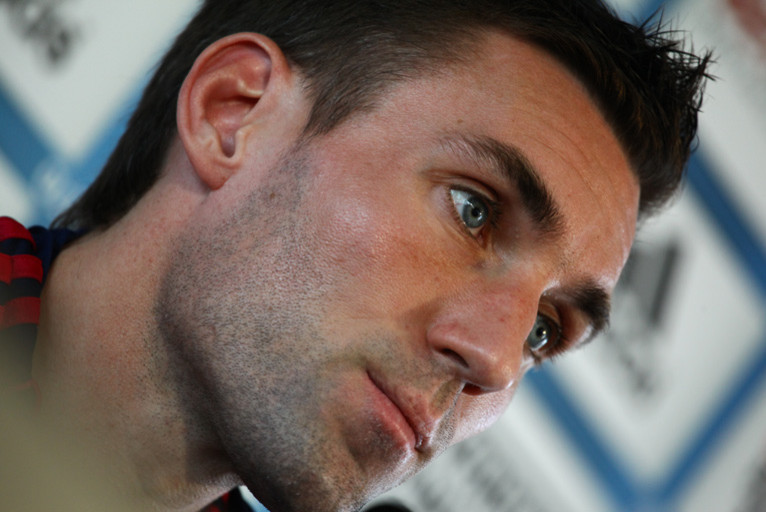 Ahead of the days training session, Lyon right-back Anthony Réveillère fielded questions from the media about OL's Champions League exit and this weekend's crucial league match against Lille...
Anthony, it's a real marathon for you at the moment with another huge match tomorrow night...
Yes, we got back yesterday and there's already another big game tomorrow against the LOSC. But that's not necessarily a bad thing because we don't have lots of time to mull over the result in Nicosia. Tomorrow's game is massive for the rest of the season. We need to recover well because we also played extra-time on Wednesday, not that that will be an excuse from us...
Rémi Garde was disappointed with the players' approach and motivation on Wednesday?
We are all disappointed and we'd love to be able to play that game again. We only needed to score a goal and we would have been through. The most important thing now is to bounce back, both as individuals and a team, for the remainder of the championship. Plus, we still have a final to play at the Stade de France to win a trophy. The priority remains Ligue 1 and the aim is to get as many points as possible and keep believing. Our upcoming games are against Lille, Saint-Etienne and Rennes so we'll see where we stand soon enough!
Has the team's spirit changed much since the start of the season?
Maybe, but we started the campaign with a lot of positive things and we knew that by playing in so many competitions, we were going to struggle at times, especially physically. But I don't think our loss in Nicosia had anything to do with our fitness. For the moment, we're not on a winning dynamic. We don't have the right to let our heads drop. Just like the last few seasons, this one will go right down to the wire. There will be plenty of head to head clashes, like tomorrow night.
How is the feeling in the changing rooms today?
We're all disappointed, but it's not the time to analyse things. Tomorrow we're playing at home and with the stadium behind us, we hope to get the result. We'll need everyone on deck...
On a personal note, how do you feel physically?
Alright. We're playing a lot of football, even though you recover quicker when you're winning. We have to keep going and not lose focus. Lille will be physically fresher than us, but playing every three or four days also allows you to maintain a certain match rhythm.
You are still competing on 3 fronts so there are still reasons to be positive...
Yes, but we can't end empty handed at the end of the season. The Champions League elimination could be a positive thing in the end... we'll see at the end of the season.