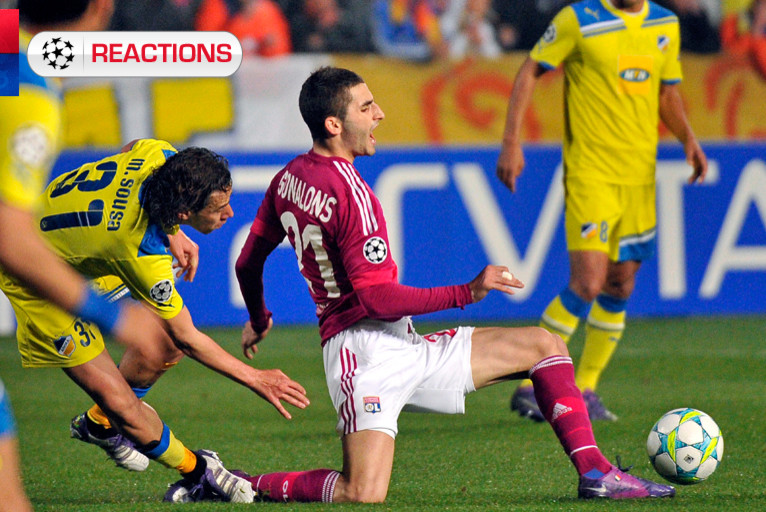 Check out who said what to OLTV after the seven-time French champions were eliminated from the last-16 of the Champions League away to APOEL Nicosia.
Jean-Michel Aulas
It's a massive frustration. It was a very difficult scenario for us after they scored that opening goal. Playing for your qualification here was always going to be playing with fire. I take my hat off to APOEL who are still undefeated at home in this campaign. It's a massive frustration because we had the potential to qualify here today. Now we have to get over this defeat because we've still got plenty of matches coming up. No-one has won here in the Champions League this season and that means this is a very good team. This defeat really hurts because we were so close. I feel a lot for Alexandre Lacazette, our best player tonight, who missed his penalty.


Baféti
mbi Gomis
It's very disappointing because we weren't up against a better side than us. Apart from the goal they scored, they barely caused us any problems. We leave here with plenty of regrets. Perhaps our squad doesn't quite have the depth to play in four competitions. The squad is still very young and despite the elimination, we've had a good campaign. I think if we'd shown a little more determination we could have got the result. In the first leg, we really should have scored that second goal just to give us a little more of a buffer. We win together and we lose together...
Ederson
We weren't able to get the equaliser. They scored a pretty lucky goal. I think we were the better team after they had opened the scoring. We really started playing in the second half by putting our foot on the ball. In a penalty shootout, anything can happen. Obviously we could have played better tonight. We're not happy with our performance. We have to quickly turn our attentions to Ligue 1… With my free-kick, the 'keeper did very well and I tried to put my header in the corner... I really wanted to score to help the team qualify... Everyone is bitterly disappointed because we really hoped to qualify... We still have plenty of ambition this season in the two Cups and the championship.


Kim Källström
It's very hard to explain this elimination. Over the two games, I don't thin we deserve to be eliminated. We fought with the squad we have, even if there's a bit of fatigue there. We created a fair few chances. For the moment, things aren't going our way so we just have to keep on working and working. We have to focus on Ligue 1 now... APOEL Nicosia  were pushed on by a really passionate crowd.

Rémi Garde
I think we made a poor start. That early goal did wonders for their confidence. We tried to get that equalising goal and we had chances, but we didn't put the ball away… APOEL Nicosia came out of their shells a little more tonight, but still maintained their organisation and discipline. We handed them their confidence and got ourselves in trouble. It's hugely disappointing, but that's the way it is...Losing on penalties is always disappointing. We gave it everything, but tonight it hurts...