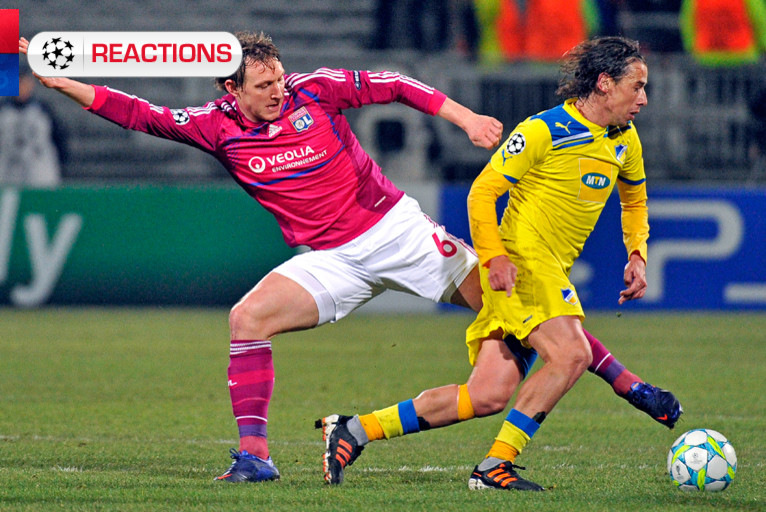 Check out all the reactions in the OLtv Bus after OL's 1-0 first leg, last 16 Champions League match against APOEL Nicosia...
Aly Cissokho
It's a good result. It was important to win because the return leg in Nicosia will be very tough. We wanted to bounce back ahead of our next match... Alexandre is in great form at the moment and along with the other young players in the squad, they've brought plenty of competition for places to the squad and that's a good thing. APOEL will look to attack in the return leg, so it should be a fairly open game. We had a lot of chances to score more this evening, but the return leg is still very winnable for us. Cris brought all his experience at the back and it showed because we kept a clean sheet. 

Kim Källström
We would have liked another little goal, but we'll take it and we're in a good position for the return match. We had a lot more balance today and avoided getting caught out on the counterattack. They're a very tough team to play, but we also have our own strengths and qualities. This is the last 16 of the Champions League so there aren't any easy matches. The tie will be decided on little details, but we know we're capable of getting a positive result in the second leg.
Gérard Houllier
It was a good performance against a packed and organised defence. It's also a good result. I'd say OL have a 60% chance of going through, especially since APOEL now need to score twice to qualify. Maybe they should have scored a second goal, but don't forget that they were virtually undefeated in the Champions League, the this was a good performance and a very good result. OL need to approach the second leg with the desire to score a goal. I thought Cris was a symbol for the whole team's display: very solid. 

Hugo Lloris
We're at half-time of this tie. The most important thing was to score and not concede. We played some good football and we have to maintain this philosophy, this attitude. It was a good thing to have won and now we have to stay solid in the return leg. This evening APOEL were very defensive and must be happy to have only conceded the one goal. It will also be important to score in the return leg. Our confidence is high, we played well.

Alexandre Lacazette
We could've scored more, but we won and kept a cleansheet and that's the essential done. I probably could've scored with my first chance, but I got the goal in the second half… But the main thing is that we didn't concede.

Maxime Gonalons
Tonight we played really well, carved out plenty of scoring chances and didn't concede. We pressed very high for the first hour and then circulated the ball well without ever taking too many risks. We wanted to keep the cleansheet. The return leg won't be easy and the atmosphere should be amazing. But we'll be heading there to win and qualify.