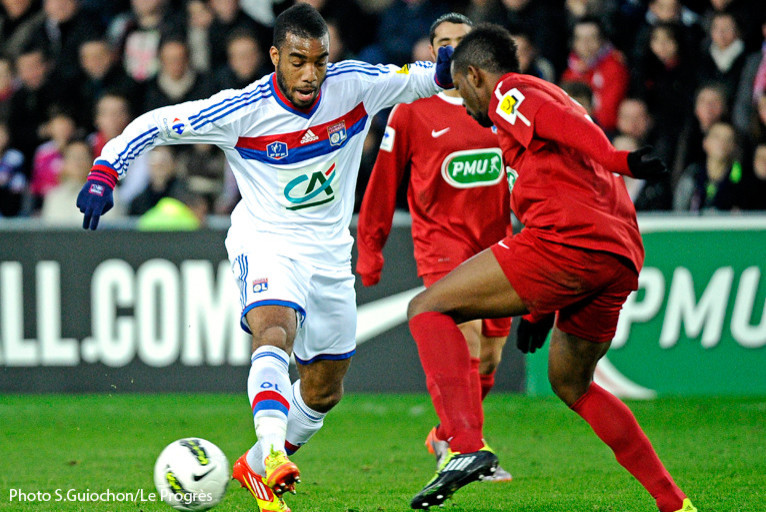 Just like OM, OL are still engaged in all three domestic competitions as well as the Champions League...
The coming weeks are going to be very busy ones for OL: Ligue 1, Coupe de la Ligue, Coupe de France and Champions League. What a fixture list! Still struggling with absentees, the seven-time French champions have just hurdled the obstacle of Luçon in the Coupe de France of the round of 32. They will take on Bordeaux at the Stade Gerland on 7 or 8 February. What a relief to be playing at home during such a busy period.
If we're more inclined to talk about the upcoming challenges rather than last weekend's game, there's a very good reason: OL's performance in labouring past the amateurs from Luçon will not live long in the memory. Lets remember the qualification, and how brave the opposition were. Obviously Gomis' goal and display was great and Lisandro took his chance... Lloris was fantastic… producing two or three great saves… And the team showed great patience to get across the line and reach the main objective. OL also kept a cleansheet - something they hadn't done since the trip to Lorient back on 11 December. We are also witnessing the emergence of Samuel Umtiti who has just four games in a row and was again excellent...
The upcoming challenges are an exciting time. Let's just hope the treatment room empties out so Rémi Garde has the option to rotate the squad during such a busy period. There are also the Africans at the Africa Cup of Nations. Should we be counting on the return of Mensah who has only played 90 minutes so far? On the other hand, B. Koné could be back earlier than expected after Burkina Faso lost their opening game… 
One must not forget that despite all the games coming up, the priority for Lisandro and Co. must remain the Ligue 1. OL are coming off back to back league defeats. OL are eight points behind the leaders PSG, four adrift of second-placed MHSC and just one behind third-placed LOSC… but only one point to the good of Rennes in fifth, and two ahead of OM. Travels to both chasing teams, and plays host to PSG and LOSC. Only a brave man would bet on the outcome this season. 
Is OL too busy to focus on the priority? But who's to say with less games to play, the chances of success would rise? Players always say they prefer playing every three or four days, without too much time between each game. The only other team in France with a calendar as charged as OL's is OM... and OM won the Trophée des Champions at the start of the season. It's a busy time - perhaps cause for trepidation - but above a source of passion and motivation...