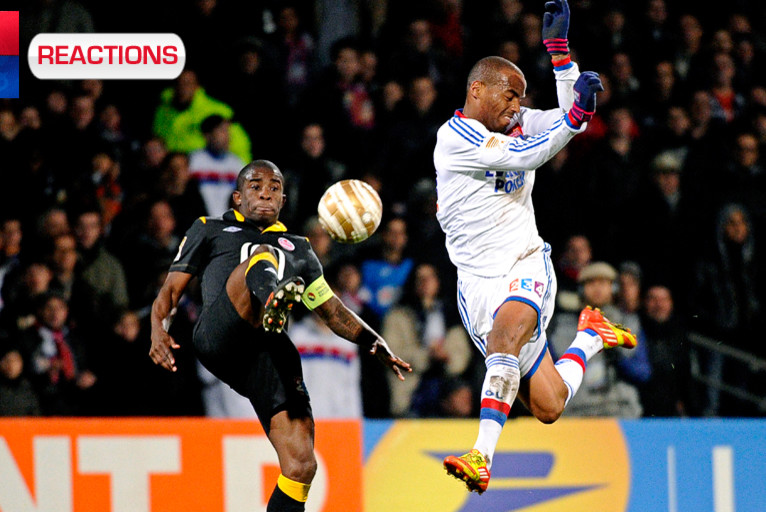 Check out what the team had to say after OL's stirring 2-1 comeback Cup victory over LOSC...
Jimmy Briand
Everyone worked hard to get this result. When you see Michel (Bastos) playing right-back, it shows we now how to dig deep when we need too. It's a really great win. Now we need to recover and prepare well for this weekend's Ligue 1 game against Montpellier. Lorient are a team that like to play football and we'll play them in the semi-finals. I joined Lyon to win trophies and this is getting close. We'll do everything we can to qualify for the final.
Jean-Michel Aulas
When we were reduced to ten men, we knew it was going to be very tough. We lost Dejan during the warm-up. It was a very difficult match against a very good Lille side. Rémi (Garde) convinced the players that they could do it. In terms of solidarity, technique, we showed today that our future is a bright one. It won't be easy to beat Lorient in the semi-finals, on their synthetic pitch, even if we played well there a few weeks ago.
Michel Bastos
I played right back, so now only the goalkeeper position is left for me (laughs)... There's a lot of pride and joy after this win. We lost a player after only ten minutes. We were up against the best team in the league. We were solid and came from behind, despite playing a man down. They had plenty of attacking players but we stood firm. Yoann was a huge help to me in the first half, I have to admit. This was a match to remember. That bodes well. On what we showed tonight, we know we can go all the way.
Rémi Garde
I wasn't planning on leaving Michel at right back for the whole game. Michel was excellent, especially his attitude. To see him accept to play there and give it everything was a strong sign to the other players. We made a terrible start, but I could feel that we were feeling good. Obviously trailing Lille 1-0 is never easy. It was very important to win because it will help us recover quicker. We'll do what we can so that the players recover quickly and approach the Montpellier game in the best conditions. The fixture list isn't doing us any favours because we're the only team to have played on Sunday, then Wednesday, then Saturday. All of that for the television... doesn't seem very fair.
Maxime Gonalons
We were reduced to ten men after just ten minutes so obviously it wasn't easy. Lille have an incredible attacking armada but we showed we could roll our sleeves up and get the result. Sam Umtiti has so much talent and he's ready to take his chance. We tried to talk well between us and I think it went well. We're all delighted. We're in the semi-finals. If we want to go all the way, we have to play well and beat Lorient.
Kim Källström
We played well in the opening ten minutes. The red card then made life hard for us, but we defended well. We tried to play on the counterattack. The first goal gave everyone a real boost. When you win, that's that counts. We know that we can still be dangerous, playing with ten men.