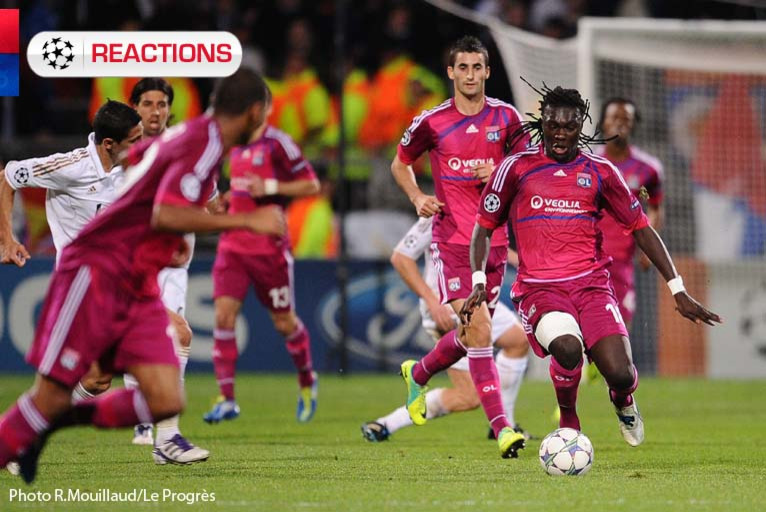 Check out who said what after Lyon's Champions League Match Day 4 loss to Real Madrid at the Stade Gerland on Wednesday...
Ederson
We started the match with the belief we could get a result. We played better in the second half. We created some scoring chances, and I had a couple of them. We were up against a very good Real Madrid side. They put pressed us in the first half and made life difficult for us. We have to keep our heads up and focus on the next match which is just around the corner.
Maxime Gonalons
We didn't start well because of Real's pressing game. We did a lot of running. Then we created a few chances. We never gave up and we caused them some problems. They have the ability to perform on the big stage and I think they're a lot stronger than in previous seasons. We'll be playing for our place in the last-16 in the final game against Ajax, here at Gerland.
Rémi Garde
We're disappointed; but not in the same way we were after the first game against Real. Aside from the opening 20-25 minutes, my players were right in this game. We were beaten by two dead ball situations tonight. I thought the penalty was a little harsh and it knocked the stuffing out of us. Real are an excellent team, both collectively and technically. They are a top level side. We'll keep fighting to qualify for the last-16. You have to be realistic in football and congratulate Real for their performance tonight.
Kim Källström
Overall, we were more competitive tonight than two weeks ago. They deserve their win, but we're still disappointed. It all comes down to our games against Ajax and Dinamo Zagreb.
Karim Benzema
We scored early on and our confidence grew. We play every game to win so we'll be trying to beat Ajax to help Lyon. Real Madrid had never won here before, so I'm happy they did it with me. Lyon had chances to score and so did we. We're working hard to become a truly great team.