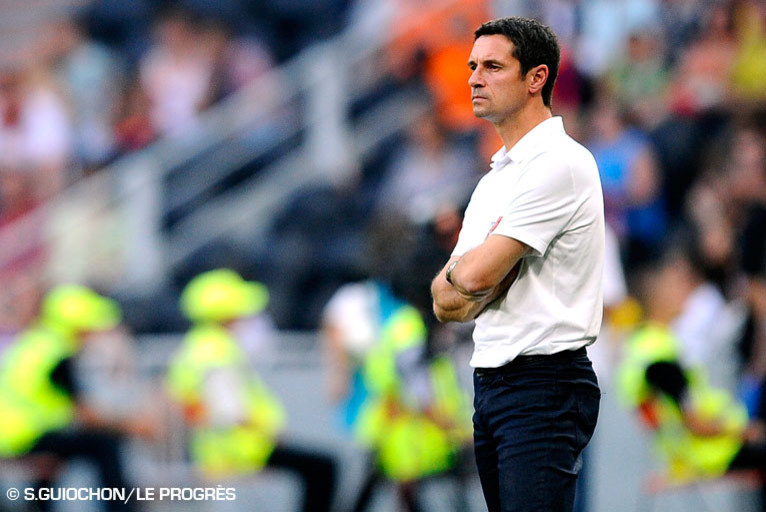 In Monday's press conference, Lyon coach Rémi Garde looked back at the loss to Lille at the weekend, and ahead to the derby...
After announcing that Lisandro, Grenier and Pied are still not available and that Mensah is struggling with a calf strain, which kept him out of the weekend reserve game, Rémi answered questions from the journalists.
Does this OL side have two faces, depending on whether they're playing at home or away?
"Yes, if you look at the facts. But there are always different circumstances: the team tries to play good football even if we're defending deeper. The team has also created goal scoring chances in each game. Away from home, I would like us to play further up the pitch."
After the losses to Real Madrid and the LOSC, how are things looking ahead of St-Etienne?
"A derby is always hugely important. We're heading to St-Etienne to qualify. We are taking the Coupe de la Ligue very seriously. It's a chance to win a trophy. Changes? It's possible, when you play so many matches, you have to think about everything. Vercoutre will play in goal. A derby is still a derby and it is very important to me. We've wanted to win it ever since we were kids. These are great games to play even if you don't always win. It's an important match in a player's career. I don't have any special memories that jump out. I think more in general terms. It's a great experience. Yes, the staff get excited, just like the players and all those that love OL."
Do you think you've found enough solutions?
"I don't have everyone available yet. We don't necessarily have the right balance when we make changes to certain positions. Other options mean very young players, inexperienced, especially when you're missing 2 or 3 players through injury."
Is your team suffering from the Champions League participation?
"It's too early to say. Perhaps we're struggling mentally rather than physically. Maybe we're not quite as fresh as some of our opponents. We knew we were going to have tough moments this season. But we mustn't question everything. All is not lost. We're just a bit out of form in certain sectors. We're working to get back in form as quickly as possible. I have every confidence in my players."
Are you impatient for Lisandro to come back?
"Yes. I've said it and I think it. Lisandro is someone that the team is missing today. He's a leader. I really can't wait for him to come back."
Set pieces?
"It's all about your approach. Your desire in these passages of play is more important than tactics."