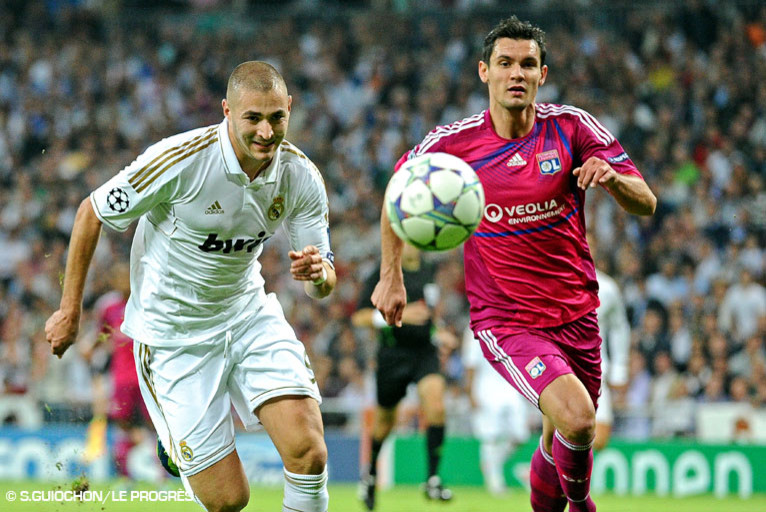 It was a bad night for Lyon at the Santiago Bernabeu in Madrid on Tuesday... All of a sudden, after Ajax's win in Zagreb, OL's position in Group D is not looking so secure...
To say we weren't happy with the performance from Réveillère and Co. against Real Madrid is putting very mildly indeed! There was nothing positive to take from the match, if not the desire, the talent, the team spirit, the ambition... of Real Madrid! To find another 4-0 scoreline, you have to go back to the 1999-2000 season and that loss to Werder Bremen in the Uefa Cup. The final whistle brought with it a sick feeling in the stomach. The sight of Lloris leaving the ground, who produced a series of excellent saves, will live long in the memory...
Could OL have done things differently? In terms of the attitude, certainly! How can we accept that absence of fight, that lack of character, of good football, of concentration, to the point of conceding four goals directly from mistakes? OL was soundly beaten in Madrid. Les Lyonnais were shy, and retiring and ended up infuriating just as they had been in the second half against Nancy last Saturday. With the benefit of hindsight, we can safely say that relaxing against Nancy under the pretext of saving energy for Madrid was not the right thing to have done...
Was the performance understandable, given the absences of Lisandro, Gonalons, and Grenier? Understandable considering that Gourcuff, Ederson and Cris, on the bench, are not yet match fit? Understandable with such an inexperienced squad? There were 472 European matches differences between the two sides at kick-off... and that's without mentioning that Casillas, Sergio Ramos, Arbeloa and Xabi Alonso are reigning world champions... Or that Cristiano Ronaldo and Kaka have both won the Ballon d'Or… or that Karim Benzema has become one of the best strikers in the world and fighting for a place in the starting XI with the Argentine Higuain! Don't forget the likes of Di Maria or Özil… And how could we forget Don José Mourinho on the bench…  It was never going to be a fair fight. The means just aren't the same. Now, more than ever, the two clubs are not orbiting in the same universe...


Now OL haven't scored in their last four away matches. Now OL returned their lowest possession percentage in ages (32%). Now OL, who had everything to gain in Madrid... showed they still had something to lose in Madrid… Now OL is not quite so exciting… Let's hope they haven't put a potential berth in the last-16 in danger... With 4 points after three games, it's not a huge total... it's just about the worst return in 12 group stage appearances. But let's not forget that the team qualified in 2007-08 after having just 3 points after 3 matches.
So there's no need for an overreaction. All is not lost for this new Lyon side, still feeling its way. We can't wait to see a full-strength side. But before then, we can't wait for the side to take on Lille on Sunday and see a reaction! It's the very least we demand!