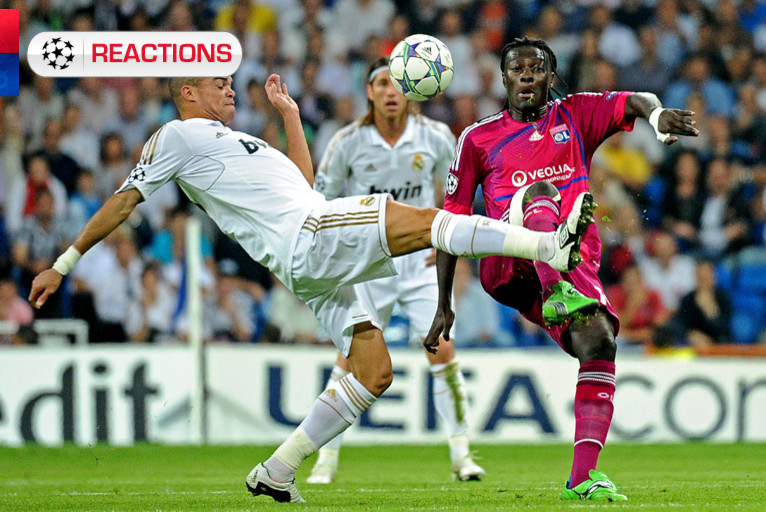 Check out all the post-match reactions from OL's Champions League match against Real Madrid...
Rémi Garde
It was the result everyone expected, even if we came here with the hope of getting something from the game. It was still possible when we were trailing 1-0, but the second goal at the start of the second half killed us. When we're missing important players like Maxime Gonalons and Lisandro Lopes, it shows. Real Madrid had a full-strength squad and just a look at their bench is amazing. We have to put this result behind us and quickly turn attentions to our upcoming games. We weren't aggressive or physical enough in the duels. We showed our opponents too much respect. Our home match against Ajax and the trip to Zagreb are going to be decisive.
Yoann Gourcuff
It was difficult. We chose to defend pretty deep and have a well-organised block. After their first goal, the space between our lines grew and they started finding space in between. In the first half, we had a couple of chances that, with a bit of luck, could have turned out differently. But we can't complain about the result, Real played very well. They have a lot of quality. They pressured us and made us run for the full 90 minutes. We made too many mistakes once we'd won back possession. I'm very happy to be back out on the pitch. I'm not feeling anymore pain. I'll need a bit of time to get back to my best out on the pitch. I'll get stronger with each game to make the difference.
Jimmy Briand
We played well in the first half even if we conceded that goal from a set piece. We had a few chances and defended pretty well. In the second half, that second goal really hurt us. We paid the penalty for the slightest lapse in concentration. It's a heavy defeat, but that's how we learn.
Michel Bastos
We were terrible today, we didn't play like we know we can. Nothing worked. When we lost the ball, two or three Real players were right on it. They deserved the win. Bravo Real. They are one of the best teams in the world. That was our worst performance this season and it came against Real. We can't be too worried because we don't a lot of good things up until now.
Anthony Réveillère
We're disappointed. We defended well until that first goal and we struggled to get the ball out of defence. Real were too good. It's not easy against players that are as good as Real's players are. Basically, we're a young team without the necessary experience in this competition. It was a tough game to put behind us and move on.
Karim Benzema
I'm very happy. I've recovered well physically and felt good right from the start. The team is starting to get know each other again and we're not rushing our play. When we press our opponents well, it's very difficult for them. We showed how hungry we were tonight. Les Lyonnais made a good start and never threw in the towel.