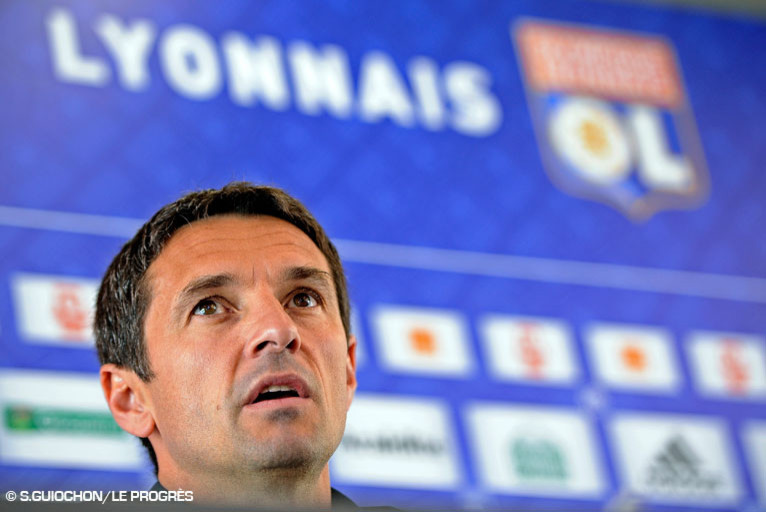 After training behind closed doors on Friday morning, Lyon coach Rémi Garde dropped into the press room to talk about his squad and Sunday's top of the table match against PSG this Sunday...
The Lyon coach made it perfectly clear to the assembled journalists, that he wasn't going to enter into any word play over Sunday's game: "I don't know what match constitutes a turning point for the season... In my opinion, every match is important... There are three points up for grabs... There will still be a lot of points on offer after Sunday's game. If we lose, it's not the end of our season, and if we win, we won't win the title. But it is a special match, given the general context..."
PSG played away in the Europa League on Thursday and OL played 48 hours earlier at home in the Champions League... OL has injury concerns… "It might have looked better if I had the whole squad at my disposal. We'll be there with the strongest possible side. I'm making do and the squad is reacting well for the moment. I'm expecting a very strong PSG side, more like the PSG against Montpellier than the one that lost in Bilbao. By the way, I don't know of PSG decided to take it easy against a very good Athletic Bilbao side. I don't know how they approached that game. Yes, you could say we have an advantage over them in terms of recovery time. Both teams had the same fixture demands in September and I think PSG had more chances to rest a few players in that time than we did."
Among the absentees in the Lyon ranks, is Clément Grenier. "It's a blow because the other players capable of playing in that position are also missing. And it's a shame because I liked how Clément was playing."  Does that mean a change in formation? Smiling: "I don't know..."
And for the final word? "I have a young squad. PSG's side is more experienced. But both sides have strengths and weaknesses... Pastore? I observed him when he was playing in Argentina. I'm not at all surprised. He breathes football, he's very skilful and he's improved physically and has adapted well to European football. He's capable of changing a game by himself.In terms of my squad's fatigue, I'm not worried. My squad wants to get forward and fight in each and every match. Everyone wants to play well on Sunday."