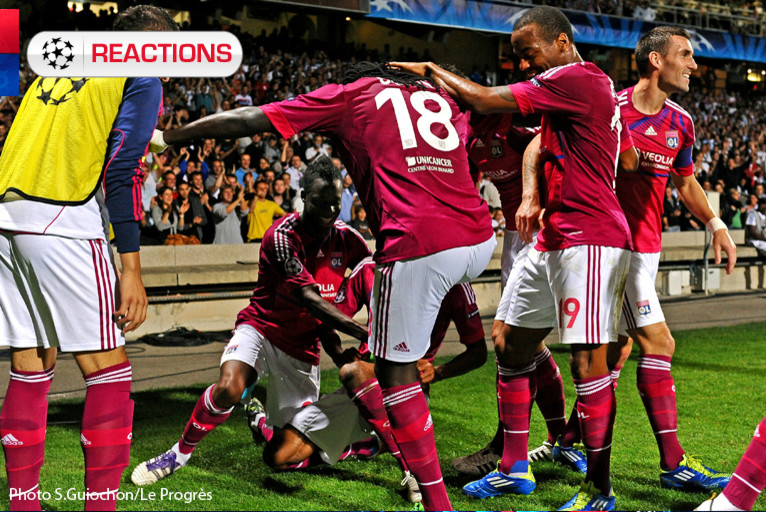 Check out who said what after OL's comfortable 2-0 home win over Dinamo Zagreb in the Champions League on Tuesday...
Rémi Garde
I'm satisfied with the result this evening, but also very happy for the players who worked really hard and earned another positive result. I like it when my team takes the initiative instead of reacting to their opponents, so I was very happy with how the game played out. Every match is important and one match is not more important than another. The players have to enjoy tonight's win before turning their attentions to the next game against PSG tomorrow. We're lucky enough to have a bit more time to recover for Sunday's match, even if I think PSG's squad is big enough to rotate a few players for Thursday's Europa League game.
Dejan Lovren
It was a very tough game for me this evening because it was against my former club, but the three points were very important for us. It's just the second time my family have come to France to watch me play, but I'm not sure who they were supporting (laughter)! Concerning the next game, I think Real Madrid will be a tougher team to play against, but I have every confidence in my team.
Kim Källström
We played well, again! We pushed hard in the first half and we missed a few chances. We could easily have been three or four gals up at half time. We controlled the second half well and played good possession football. Dinamo Zagreb had a few chances to score and we had to be careful, but it was good given the upcoming games. It was very important to win at home, but to win a trophy, you also have to win away. We've played some good sides at home this season so it's great to have won them all.
Jean-Michel Aulas
I'm very satisfied and very happy. I'm satisfied because this match was not as easy as many people thought and I'm happy because we maintain our good run and we gave our opponent very little chance to get into the game. Now we can't wait for Sunday's game against PSG. It was a very good thing to have scored early tonight.
We're looking good in terms of the group standings. I said at the draw that it was a tough group and a tough fixture list for us, but we've done well in our first two games. Obviously I would have preferred a third goal for our goal difference, but it's also good to have kept a cleansheet.
Hugo Lloris
It's great to get a first win of the season in the Champions League section. These are three very important points. We played very well in the first half and could have had a bigger lead. We took the foot off the gas a bit in the second half and it showed. We still held on for the result and we didn't concede. We tried to score early and then hold onto the lead, but there are still certain things we can work on. But we should also be happy with what we're achieving at the moment. Bafé's success is all down to his enormous talent, even if he also benefits from the hard work of the team.
Bafé Gomis
My teammates worked very hard tonight. The whole team defended high up the pitch and I reaped the rewards. The three points were crucial after the draw with Ajax and ahead of the two games with Real Madrid. When you score early you can then sit back and control the game and that's a very good thing.